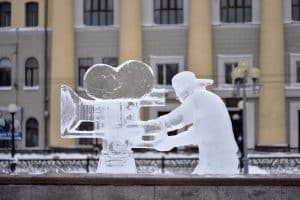 You can check out some impressive ice sculptures, and some impressive heat from the chili cook-off, when you check out the Fire And Ice With Spice event on Saturday, February 18. Held in nearby Clawson, this event promises a full day of winter wonderland, along with impressive displays from jugglers and fire breathers. If the fire breathers fail to make the affair hot enough, the chili should help! This special winter festival also features activities for the kids, including a designated crafts tent.
When:
The Fire And Ice With Spice event will take place on Saturday, February 18. The event is scheduled to run from 11 am until 4 pm.
Where:
The event is being held in downtown Clawson, at North Main Street and Fourteen Mile Road.
Cost:
No entrance fee is listed for the event. That being said, proceeds raised by the chili cook-off event will be collected, and donated to local charities.
Activities Include:
You can see some remarkable ice sculptures, and watch artists construct new pieces during the event. There will also be a chili cook-off, and terrific tricks performed by jugglers and fire breathers. You can also take part in the chili cook-off competition.
For More Information:
For more information about this event, click here.