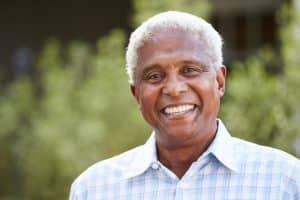 Tooth loss can produce a glaring, hard-to-miss problem with your smile. The anxiety a missing tooth can produce can be significant. That being said, it would be wrong to act as if your appearance was all that suffered because of this issue. You can experience different oral health problems that affect you from day-to-day, as well as problems that develop over time. You might notice some discomfort when you bite, chew, and speak, thanks to that tooth loss. That initial discomfort can build, and turn into real TMJ problems. You can also have difficulties because of jawbone resorption, which occurs after tooth loss. To avoid both cosmetic and functional concerns, you can have a dental implant placed to hold your prosthetic.
Enjoying The Benefits To Dental Implant Placement
A dental implant makes it possible to secure a dental prosthetic in a way that mimics the support enjoyed by natural teeth. This is because the implant connects the restoration to your jawbone. The implant acts like an artificial root, and even takes on the job of stimulating the bone, which can protect you against resorption. The implant also limits movement of neighboring teeth, and provides a stable enough hold to let you bite and chew with your prosthetic tooth.
Receiving Your Dental Implant
Before you can receive your implant, your dentist has to take a look at your current condition. Unfortunately, if you have left tooth loss unaddressed for a prolonged span of time, your jawbone may not be healthy enough to easily accept the implant. If this, or any other issue, is detected, your dentist can help you understand your options moving forward.