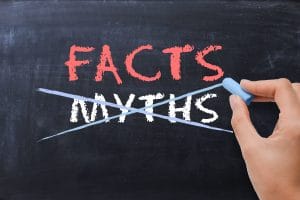 There are myths out there about full and partial dentures. You know this because you might not be asking many questions about dentures for yourself just yet because these rumors have "poisoned the well" so to speak. You may already have so many assumptions built up that you don't even think they may make a suitable solution for you (when in fact, they may offer you just what you need and more!). Let's clear up some myths that might otherwise cause you to miss the opportunity to complete your grin according to your preferences.
Myths Versus Facts
Myth: Dentures are only for elderly smiles.
Fact: Full and partial dentures are for smiles of just about any age. There's no specification regarding age. You could be 22 or 102. It's important to remember that these are your option for removable tooth replacement. Don't overlook them no matter what as you begin learning about prosthetics. They are worth investigating!
Myth: There's nothing you can do to keep your full and partial dentures from slipping around when you eat or speak or from occasionally falling out.
Fact: Dentures that slip or fall out are dentures that do not fit you as well as they could. If you're wearing well-fitting, undamaged dentures, then you can expect secure wear. If you would like further security, you may use an adhesive. You may also consider choosing implant-retained dentures.
Myth: Dentures will look obviously artificial but since it is better than not having a complete smile, the tradeoff is a worthwhile one.
Fact: They're probably not what you think! They look natural, thanks to modern, lightweight material that mimics your dental and gum tissues. Come learn more!
Consider Dentures By Learning About Them With Us
Before you dismiss dentures, remember that you may not know much about them at all. Learn more by asking our team your questions. To learn more, schedule an appointment or initial consultation by calling Advanced Dental Concepts in Auburn Hills, MI today at (248) 852-1820.