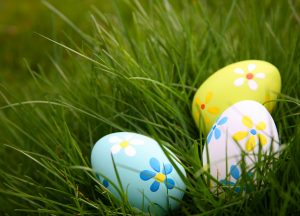 Here comes Easter, hopping its way toward us! If you generally make plans to join the community for the fun and festivities that accompany this time of year, then you will want to be absolutely certain to remember to mark the 27th Annual Easter Egg Hunt & Bonnet Contest on your calendar!
What Is This?
This is an event for the whole family to get outdoors, have some fun, and celebrate Easter together with fellow town members! There just happens to be something for everyone, including adults! The list includes: An egg hunt for kiddos, an egg toss for adults, bonnet contests for everyone, pictures with the bunny himself, and more!
When Is It?
You may attend this event on March 31st, 2018 during the following times, depending on the activity you're interested in:
12:00pm: Egg hunt (for kids 3 and up; they will be guided into different age groups)
12:15pm: Bonnet Contest (and head indoors for photos with the Easter Bunny)
1:00pm: Lawn egg toss for adults
Where Is It?
Join in the Easter fun at the Civic Center Park. You may find the park behind the Auburn Hills Community Center at:
1827 North Squirrel Road
Auburn Hills, MI 48326
Who Is Invited?
Everyone!
How May I Learn More?
You may feel free to use the following number to contact the community center with your questions: (248) 370-9353.
Maintain A Healthy Smile By Setting Up Checkups
Don't forget that your checkups and cleanings are the foundation of your healthy smile. To learn more, schedule an appointment or initial consultation by calling Advanced Dental Concepts in Auburn Hills, MI today at (248) 852-1820.