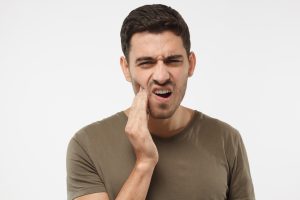 When you continue to feel pain in your jaw, struggle with biting and chewing, and struggle with frequent bouts of headaches, you may be in need of treatment for TMJ dysfunction. TMJ problems can cause several difficult symptoms that will hurt your quality of life. What can you do to move past these symptoms? You can learn how to enjoy relief when you make an appointment with your Auburn Hills, MI dentist to discuss TMJ dysfunction. Many people with these problems will find that a special oral appliance helps them. This appliance gently corrects the position of your jaw while you sleep, which can reduce the strain that causes so many uncomfortable symptoms.
TMJ Dysfunction Can Create Many Uncomfortable Problems
Why do you have so many painful symptoms when you struggle with TMJ dysfunction? Your jaw joints are controlled by your trigeminal nerve. Since this nerve is responsible for sensation in several areas, including your neck and head, jaw troubles can lead to many different discomforts. Your jaw troubles can also cause you to grind your teeth, which can lead to alarming dental damage. The sooner you make time to see your dentist and discuss your concerns, the sooner you can relieve yourself of these problems.
Keep Up With Your Oral Health By Attending Regular Dental Exams
Your dentist is going to look for more than just cavities when you go in for a routine dental exam. These visits will also present an opportunity to address concerns about TMJ dysfunction, snoring, and problems that affect your periodontal health. There are many benefits to gain from staying regular with your visits – unless your dentist tells you to follow a different schedule, plan to go in for a checkup every six months.
Talk To Advanced Dental Concepts About Addressing TMJ Dysfunction
At Advanced Dental Concepts, you can enjoy important support when you experience troubles with TMJ dysfunction. A special oral appliance can help you address issues that cause pain, and poor dental function. To book a routine checkup with Dr. Okoniewski, call Advanced Dental Concepts in Auburn Hills, MI today at (248) 852-1820.