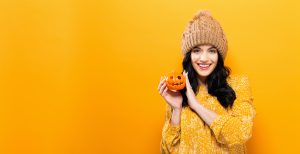 Your favorite Halloween topic may have something to do with food, costumes, parties, haunted houses, decor, and more. As you can likely guess, our favorite Halloween them is all about smile safety! Of course, that's because your oral health is our Auburn Hills, MI team's number one priority. So, while you can most certainly expect that we hope you have the best Halloween ever, we also want you to add a few things into the fold this year, so you're keeping your smile safe from unexpected trauma!
Check Everyone's Feet
This might sound funny but you'll know just what we mean. We encourage you to check your foot space, the area around your children's feet, and anyone else in your group before you head out for Halloween festivities. What are you looking for? You are ensuring that everyone has tied laces. You're making sure that nobody's costume is dragging beneath or between their feet. You're doing what is necessary to keep walking space clear, so there's no accidentally trips and no unexpected emergency need for restorative care!
Gather Up Your Flashlights
Take just a moment to consider a simple yet extremely important tip from our team: You can absolutely make (rather than break) your oral health by choosing to use a flashlight. There's no reason every member of your family can't carry one of these! This is primarily a tip for those of you who are going out to enjoy trick-or-treating, as it can be much more difficult to see where you are going than you realize!
Have A Discussion About Running, Pushing, Etc.
Have a quick talk with the kiddos about how important it is to walk (rather than running), not to push ahead in line, and not to jump off of anything! This offers serious oral health protection that is often easy to overlook (because it means less accidental falling).
Check Candy Before Digging In
Hoping to avoid the need for dental fillings this year? How about crowns? Don't forget that these suggestions apply to children and adults alike. Keep your family's oral health safe by removing any candy you think might be too dangerous for teeth and gums and more (like very chewy stuff, choking hazards, candy too hard to bite, etc.). It's worth the time!
See Us For Optimal Family Smile Protection
Keep your smile and the smiles of your entire family safe and healthy every day of the year! See us soon for a visit. To learn more, schedule an appointment or initial consultation by calling Advanced Dental Concepts in Auburn Hills, MI today at (248) 852-1820.