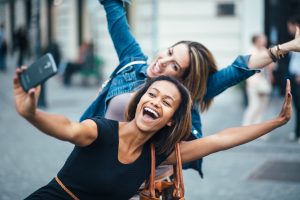 'Tis the season for lots of smiles and family photographs. Who doesn't want their smile to shine? Healthy teeth are one of the first steps to a great smile. Along with bright teeth and healthy, pink gums, having lips free of flaky skin or tiny cracks adds an appealing frame to your smile. You might think chapped lips just come with the winter season in Auburn Hills, MI, but it doesn't have to be so. There are steps you can take to make sure your lips stay soft, comfortable and photogenic all winter.
Some Facts about Your Lips
The skin on your lips is some of the most delicate tissue on your body. Since lips do not have oil glands, they are left without a crucial layer of protection. Lips are also hairless, and cannot protect themselves from the sun. It's up to you to help lips stand up to the elements!
Suggestions to Take Care of Your Lips
Don't Lick. Wind and cold can dry out lip skin, and while licking feels good momentarily, it actually adds to chapping. The moisture from saliva quickly evaporates, leaving lips drier than ever.
Counteract dry, indoor heat by using a humidifier indoors, when possible
Apply lip balm, petroleum jelly or other moisturizing barriers to your lips as often as possible.
Avoid lip products with perfumes or additives that may irritate tender lip skin
Avoid minty or flavored lip products, which encourage licking
Drink plenty of water. Although applying water to the outside of your lips can dry them further, drinking plenty of water is an excellent way to ensure that all organs and skin tissues are well hydrated. Internal hydration will help combat external de-hydrating elements.
Chapped Lips Don't Have to Mar Your Smile
You can take steps to winterize your lips and cut down on chapping. To learn more, schedule an appointment or initial consultation by calling Advanced Dental Concepts in Auburn Hills, MI today at (248) 852-1820.