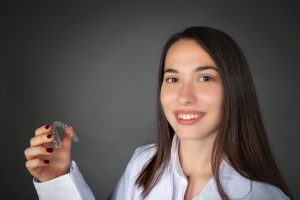 Straightening crooked teeth is important for many reasons, and patients in Auburn Hills, MI, who want to do it without braces often consider choosing Invisalign® clear aligners instead. Unlike traditional braces, Invisalign® consists of custom-designed aligners that fit over your teeth, rather than being bonded onto them like brackets and wires. If you're thinking about choosing Invisalign® aligners, then you should consider just what their benefits will mean for you.
The aligners won't be noticeable
Invisalign® aligners are virtually invisible because they're made from clear, BPA-free acrylic that remains discreet when placed over your teeth. In addition to the clear material, each aligner is designed precisely according to detailed measurements of your teeth and dental ridges. They'll remain snugly but comfortably in place, never moving or shifting to give away their presence. For close-up photos or cases where you'll be the center of attention, you can even temporarily remove your aligners for optimal discretion.
You can eat and brush your teeth normally
For Invisalign® aligners to be effective, you must wear for them for a prescribed number of hours every day. However, in addition to removing them for temporary engagements, you can also take them off before eating a meal or brushing and flossing your teeth. Removing your aligners allows you to perform these daily activities with much greater ease, comfort, and success than you would be able to with traditional braces.
Your smile will be healthier with straighter teeth
The most important thing to remember about Invisalign® treatment is that the results will significantly improve your long-term oral health as well as the appearance of your smile. When your teeth are aligned properly, they're easier to keep clean of food particles and oral bacteria. They're also less likely to allow the gum tissues around them to become infected with bacteria, leading to gingivitis.
Call us to learn more about Invisalign®
If you want a straighter, healthier smile, then consider Invisalign® clear aligners as a more discreet and comfortable alternative to traditional orthodontic braces. To learn more, schedule an appointment or initial consultation by calling Advanced Dental Concepts in Auburn Hills, MI today at (248) 852-1820.