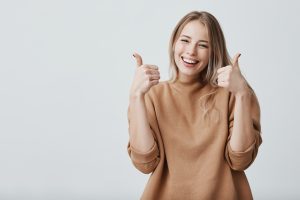 There's something about dental implants that causes patients to immediately ask age-related questions, to assume qualifying is going to be extremely difficult, and more. Our Auburn Hills, MI team figures that perhaps because implants offer so many benefits and are so attractive, they seem too good to be true and, as a result, patients figure they probably won't be able to have them. The lovely news is that in most cases, either already being a candidate or becoming a candidate is a huge possibility. Let's walk you through some preconceived ideas about implants and what it really takes to have them!
About Being "Too Young" For Implants
You can most certainly be too young for dental implants. Of course, if your child is missing a tooth, you may want to feel sure that eventually an implant will be an option and in most instances, it will be! A person primarily requires a healthy jawbone and good oral health in order to qualify. The reason your child isn't ready yet? In addition to requiring a healthy jawbone, an implant also requires a jawbone that isn't growing. So, since your child's bones are still developing often into his or her late teens or early 20s, there will be a bit of a waiting period. Until then, we can discuss other solutions if your child has lost a tooth, never developed a permanent tooth, etc.! Just call our team soon.
About Being "Too Old" For Implants
Nope, you cannot possibly be too old for dental implants. As mentioned before, the qualifying factors aren't about age but about your ability to offer stable support for a dental implant. Here's the rundown of what you need to remember:
Your jawbone must be finished growing, which is absolutely true of any adult! So, you cannot be too old in this category.
Your jawbone must be healthy! If it's not healthy at the moment, we can refer you to a trusted oral surgeon who can help with that.
Your oral health must be in good standing. If it isn't at the moment, we offer the restorative care you may need in order to qualify!
Age has nothing to do with it!
The Details On Becoming "Just Right"
We invite you to come on in. You may think you know just what's going on with your smile and what you need in order to become a candidate for dental implants. However, the process and planning all becomes much easier when you sit down for a checkup and we can guide you through the specifics!
Get Ready For Implant Candidacy
Gain additional knowledge regarding candidacy for dental implants as you are considering them for your smile. When you visit us, we can help you better understand whether you are ready or how to become ready! To learn more, schedule an appointment or initial consultation by calling Advanced Dental Concepts in Auburn Hills, MI today at (248) 852-1820.