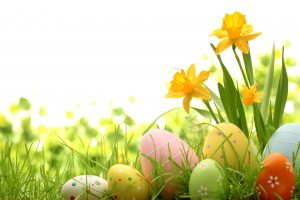 It's an annual favorite and it's back! Can you believe how quickly the year has flown by? Here we are in spring and the 28th Annual Easter Egg Hunt & Bonnet Contest is quickly approaching. So, get ready for some Easter-inspired fun, prepare for the contest if you plan on entering, and remember: There's fun for everyone at this upcoming Auburn Hills, MI event!
The Event Includes…
This Easter event is packed full of fun for the whole family! The kiddos will get to search way up high and down low for eggs, of course, in addition to finding special treats! Spend a bit of time coaxing them away from enjoyable activities just long enough to snap a photo of them with the Easter Bunny, and don't forget: Grownups will have a wonderful time participating in the annual Egg Toss! As for the Bonnet Contest: All are welcome to enter for the chance to win in one of several categories!
Event Admission
Admission to this family experience is $2 per child!
Easter Event Schedule
Show up for the fun on Saturday, April 20th, 2019 from 12:00pm to 2:00pm. Remember:
12:15pm: Bonnet Contest & Photos (Taken In The Community Center)
1:00pm: Egg Toss
Location
Bring yourself, your friends, and your loved ones to the Civic Center Park for tons of excitement! You may find the event at the following address:
1827 N. Squirrel Road
Auburn Hills, MI 48326
More Information
Get in touch with a member of Parks & Recreation when you call 248-370-9353 for further information.
Enjoy Healthy Smiles As A Family
Remind yourself to call our practice at your convenience to schedule the preventive dental care visits your family needs for healthy teeth and gums. When we see you every six months, we offer oral health protection! To learn more, schedule an appointment or initial consultation by calling Advanced Dental Concepts in Auburn Hills, MI today at (248) 852-1820.