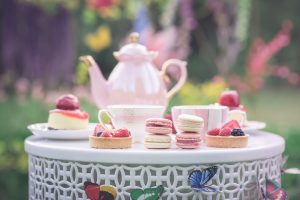 It's here just once a year, it's great fun, and it's an extraordinarily beneficial event for our Auburn Hills, MI community: It's the Mad Hatter Tea Party 2019! It's certainly not going to include all of the chaos and insanity of the original Mad Hatter party as seen in Alice's Adventures In Wonderland by Lewis Carroll. However, it will most certainly be just as lively, indulgent, and enjoyable, so get your tickets soon!
What Is This?
The Mad Hatter Tea Party is pretty much everything you might ever dream of experiencing if you happen to be a tea party enthusiast! Plan on enjoying tea, of course, some scrumptious food in the form of lunch and dessert, and then some sweet activities! Remember: This family-friendly experience is raising funds to support special programs in our community, including the Senior Services Lawn Program and the Teen Council Community Garden!
When Is It?
The party will take place on May 11th, 2019 from 12pm to 2pm.
Where Is It?
Join others for this precious party at the Community Center! You may find it at:
1827 N Squirrel Road
Auburn Hills, MI 48326
How Much Are Tickets?
Tickets to the event range from $10 to $15 per person.
Who Is Invited?
All are welcome!
How May I Purchase Tickets And Learn More?
You may purchase tickets and ask your questions by visiting the event's Facebook page!
Promote Family Smile Health
In addition to striving to promote the oral health of your whole family at home through smart choices and continued dental hygiene, remember that seeing our team is essential, too! Remember to schedule dental checkups! To learn more, schedule an appointment or initial consultation by calling Advanced Dental Concepts in Auburn Hills, MI today at (248) 852-1820.