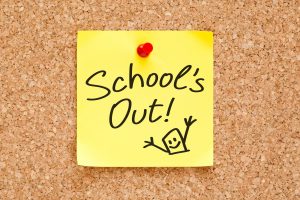 If you've been yelling school's out for the summer for a few days now, then you are already becoming accustomed to the idea that in many ways, life is about to become a whole lot easier! What you may not have considered just yet is that this applies to your child's dental care, as well! Not sure you're making the connection but when someone tells you that your summer is going to be easy breezy, you're all ears? Let our Auburn Hills, MI team offer you some helpful enlightenment, so you make the best use of summertime in terms of keeping your kiddos' teeth and gums in lovely condition!
Why Summer?
Why is summer such a fantastic time for dental care for your kiddos, you wonder? Well, where to begin? Remember, for starters, that school is out of session, which means your kids are home for the day! This means their schedules are much easier to deal with. You won't have to worry about trying to schedule a dental visit with us and causing your child to miss class. You won't have to worry about interrupting lessons, which can then interrupt homework. There aren't lots of extracurriculars to content with. Just a wide open summer, so you can really enjoy more wiggle room with scheduling to see us!
A Good Time For Checkups And Cleanings!
While this may go without saying, we always remind our patients that summer is a wonderful time to schedule dental cleanings and checkups. You may wonder: But isn't any time of year good for such a visit? The answer is yes. However, summer is especially wonderful for the aforementioned reasons! You have time to get one of two preventive appointments completed for your kids and for yourself, too, so don't get too swept up in the fun!
What Else To Consider?
What else is there to consider for your children's dental care this summer? Well, as mentioned, since you have more time, you may want to sit down as soon as possible to ask yourself what's on your to-do list in terms of your kids' grins. Have you been meaning to follow through on bringing kids in for dental sealants but you just haven't had time yet? Maybe your children need fillings or otherwise. Think through these additional details, give us a call, and schedule anything you need. It will make for a very nice summer (and some serious relief once school is back in session!).
Set Up Summer Visits For Your Kids
Take advantage of summer break when it comes to taking care of business! Set up the smile care your kids need without worrying about classes or homework, so you know those growing smiles are on track! To learn more, schedule an appointment or initial consultation by calling Advanced Dental Concepts in Auburn Hills, MI today at (248) 852-1820.