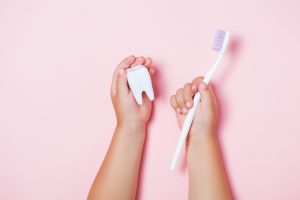 You know that you need preventive care in order to enjoy a smile that's healthy, breath that's fresh, and to steer clear of problems. However, you may have some uncertainty about children's preventive dental care. Why do they need it, you wonder? Don't kids have time, since baby teeth eventually fall out, to receive professional care? Aren't younger smiles more resilient against problems? Learn more about why prevention is so pressing for children's oral health success from our Auburn Hills, MI team (and set up your child's next checkup soon!).
To Establish Wonderful Habits
We remind you that one reason kids need preventive care is the fact that the sooner you implement habits, the easier it is for them to become ingrained and long-lasting. Since you would prefer your kids become experts at brushing and flossing and that they feel comfortable and confident about seeking professional dental care that they need, we remind you: The sooner you start the better! Kids instantly pick up habits and it simply becomes part of life, rather than a difficult chore.
To Guide Their Growing Smiles
We encourage you to remember that guiding smiles as they develop is a much easier task than waiting for them to finish growing and then trying to adjust issues after the fact. Let us help your child's teeth, gums, structure, function, and more, become excellent and stay that way by seeing us for preventive care.
To Protect New And Future Teeth
We understand that you may think of baby teeth as disposable and therefore, as requiring little to no care. However, the truth of the matter is that kids need to brush, floss, and see us for cleanings and checkups because these teeth lead the way for the permanent ones to follow (damaged baby teeth can lead to damaged permanent teeth). In addition, prevention provides protection for all of your child's other oral tissues, as well as function.
For The Same Reason As Mom And Dad!
Just like Mom and Dad rely on preventive care to avoid problems like tooth decay, gingivitis, TMJ problems, and more, the same applies to kids! Your children require this type of care because all smiles of all ages are vulnerable to damage, disorders, and more. Keep smiles safe through prevention!
Schedule Children's Preventive Dental Care
Remember to set up your child's preventive care visits with us, every six months, just like you do for yourself. Follow through with care at home, as well, with brushing and flossing, and your child's smile will be safe! To learn more, schedule an appointment or initial consultation by calling Advanced Dental Concepts in Auburn Hills, MI today at (248) 852-1820.