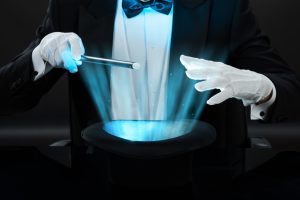 What's more magical than seeing a magician pull a rabbit out of a hat? Well, pretty much seeing a magician perform any and all additional magic tricks and slights of hand! If you and your family happen to have quite a penchant for all things magic-related, then the excitement and mystery of the upcoming Baffling Bill Magic Show will certainly not be lost on you! Plan on attending this super-fun, family-friendly experience in our Auburn Hills, MI community!
What Is This All About?
The Baffling Bill Magic Show is time for you to sit back and relax, as you're awed by the reality-defying magic of Baffling Bill the Magician! Or, for those skeptics out there (or studying magicians in training), it's an up-close-and-personal opportunity to pay close attention to the magician's every move as you do your best to dismantle his exceptional tricks! (Bonus: Baffling Bill also has a soft spot for reading, which will become apparent throughout his performance!).
Where Is It Happening?
A magician who loves to read? It's happening at our Auburn Hills Public Library, of course! Head to the Large Meeting Room at the following address:
3400 E. Seyburn Dr
Auburn Hills, MI, 48326
When Is It?
The magic event will take place on Monday, July 15th, 2019 from 7pm to 8pm.
What Does It Cost?
It is free!
Who Is Invited?
All are welcome to attend.
How May I Learn More?
Get your questions answered by calling the library at (248) 370-9466.
Keep Your Family's Oral Health Safe
Remember that keeping the teeth and gums of every member of your family completely safe and health is actually easy to do! Follow through with suggested home care and schedule visits twice a year! To learn more, schedule an appointment or initial consultation by calling Advanced Dental Concepts in Auburn Hills, MI today at (248) 852-1820.