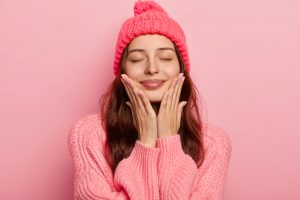 When colder weather sets in, you instantly find yourself feeling just as shocked as you do every single year in terms of how it impacts your body! One day, your lips are just an afterthought. The next? They're dry and headed toward uncomfortable cracks. So, you may find yourself hoping that our Auburn Hills, MI dental team can help you enjoy this wonderful time of year, while also enjoying good oral health, lips that still stretch and feel A-OK, and more! Not to worry: We've got the helpful hints to help you sail through fall and winter with ease.
Lip Health: All About Moisture
We know that when your skin suddenly seems to lose its moisture, it can wreak havoc on your lips. Fortunately, maintaining this aspect of your oral health just requires you to load up on moisture. You can do this externally by remembering to apply balm generously throughout the day and before bed. Internally, remember that consuming enough water daily is important for your lips and every other part of your smile and overall health, as well!
Don't Forget Your SPF
Of course, loading up with lip balm, H2O, and more will help you maintain supple, comfortable lip health. However, we remind you that even with lots of lip balm, and even when it's cold out, you're still exposed to the sun (which can encourage cancer, including oral cancer). Follow the very simple tip of selecting lip treatments that include SPF for daytime and to continue using any facial SPF you usually apply when it's warmer out!
Your Cold-Season Visit Is Essential!
Anything you need to learn, any care your oral health requires, etc., can be achieved during your cool-season dental visit! If it's time for your next six-month checkup and cleaning, don't hesitate!
Watch For Dry Mouth
When the air becomes dry, you've got your heat on, and perhaps you have some sniffles that tend to show up during the cooler seasons, you may find that your mouth is becoming drier. It might be due to mouth breathing, not drinking enough water, etc. Whatever is drying out your tissues, remember that dry mouth may lead to oral health concerns like cavities, bad breath, and more. So, it's to your benefit to (again) drink that water, address colds, allergies, etc., and to see our team if you find that this issue isn't going away.
Enjoy Optimal Cool-Season Oral Health
Make sure you're doing whatever it takes to protect your oral health this season and beyond, so you enjoy the colder weather without allowing it to take a toll on your lips and more! See us for additional advice. To learn more, schedule an appointment or initial consultation by calling Advanced Dental Concepts in Auburn Hills, MI today at (248) 852-1820.