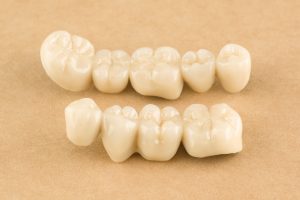 When we lose one or more of our natural teeth, this leads to much more than just embarrassing gaps in our smile. In fact, tooth loss could lead to everything from misalignment to serious jaw joints disorders. In order to restore smiles in Auburn Hills, MI, suffering from tooth loss, our team may recommend a custom bridge or possibly a partial denture.
The Dangers of Missing Teeth
Did you know that a gap in your smile could cause surrounding teeth to drift from position, leading to misalignment? Poor alignment not only impacts smile esthetics, but can also lead to a higher risk of tooth decay and gum disease, as brushing and flossing becomes more difficult. Missing teeth has also placed pressure on the jaw joints and upset bite balance in some cases, leading to TMJ disorder and bruxism (teeth grinding). Not to mention the more severe your tooth loss, the more likely you are to experience problems eating or speaking. Fortunately, we have options to address your missing teeth.
Dental Bridges
A bridge is the perfect choice to address between one and three missing teeth in a row. The prosthetic contains your new teeth, along with crown attached to each end. We create them using strong and lifelike materials, ensuring they blend with your smile and look natural. They will also be able to absorb bite forces and pressure, just like natural teeth. After we remove structure from the teeth on either side of the gap in your smile, we take impressions and measurements to craft the prosthetic. Once complete, we place the crowns onto the prepared teeth, which anchors the new ones firmly in place. They can last for 10 to 15 years with proper care and attention!
Partial Dentures
If you have tooth loss too severe for a bridge, but not quite extensive enough to require a full denture, then we may prescribe a partial. The denture consists of your new teeth set in a base designed to mimic the appearance of gum tissue. The metal clasps will attach to natural teeth and secure your new ones firmly in place. We can address multiple missing teeth in a row, or lost teeth spread out across the arch. As with our other prosthetics, they will be custom-made with lifelike materials. If you have any questions about addressing your lost teeth, then contact our team today!
Do You Have Missing Teeth?
For people with minor and more advanced cases of tooth loss, we have custom and comfortable dental prosthetics. To learn more, schedule an appointment or initial consultation by calling Advanced Dental Concepts in Auburn Hills, MI today at (248) 852-1820.