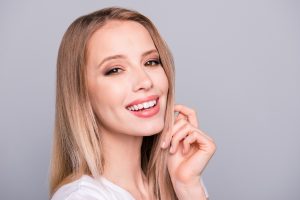 Dental crowns are a well-known staple of modern dentistry, and today, they're so lifelike that it seems there isn't much room left for improvement. Made from high-quality materials, like dental porcelain, that closely match the color, shade, and even shine of your healthy tooth structure, many of today's dental crowns are already nearly indistinguishable from the rest of your healthy teeth. Yet, there is one area in which technology still allows for a significant improvement over the dental crown process. Using CEREC technology, we can streamline the design and creation of your crown to complete your restoration in just one day!
How long traditional crowns take
Dental crowns are made to restore teeth by completely capping their visible structures (also called crowns). By doing so, a dental crown should not only restore and protect a tooth, but also reestablish its place within your bite's full function. This requires that your crown be crafted according to highly precise measurements and molds of your teeth and dental ridges. Traditionally, a trusted, skilled technician working in an off-site dental lab creates your restoration, then sends it to your dentist so he can permanently bond it over your tooth. Because your restoration is created off-site, the process of sending your measurements and receiving your final crown can take multiple weeks.
How CEREC technology works
Because modern dental crowns themselves have reached an uncanny level of realism, the most important area to improve your treatment is in the time it takes to complete it. CEREC technology, which stands for chairside economical restoration of esthetic ceramics, is designed to do this by centralizing the design and crafting of your restoration in our office. CEREC uses computer-aided design (CAD) technology to digitally measure your teeth and dental ridges, then create a 3D model that can be used to create your crown. Then, the CAD system sends your measurements to a computer-aided manufacturing (CAM) unit that mills your customized dental crown onsite.
Streamlining your tooth restoration
When you consider the time CEREC saves you when receiving your dental crown, convenience seems like the most important benefit to same-day dental crowns. While it is a significant benefit, there are also several important advantages to your oral health. For example, many cases that require the placement of a dental crown involve substantial damage to your tooth structure, or the treatment of an invasive tooth infection (decay). The sooner you receive a crown to restore the tooth, the less you'll risk damaging the tooth further in the meantime.
Find out if you qualify for a same-day crown
Thanks to advanced CEREC technology, we can help you improve and/or restore your tooth with a highly lifelike porcelain crown in just one day! For more information, schedule an appointment or initial consultation by calling Advanced Dental Concepts in Auburn Hills, MI today at (248) 852-1820.