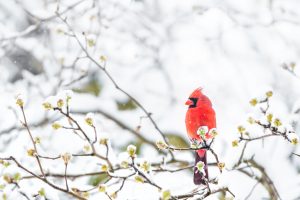 There is something very relaxing about watching birds throughout the year. The English organization CareUK lists benefits of bird watching that include connecting with friends, connecting with nature, being physically active, and keeping your mind active. Bird watching takes patience and attention to detail, but the rewards are many. Your caring dental team in Auburn Hills, MI invites you to explore some of these opportunities for bird watching and related opportunities in the greater Auburn Hills Area.
Scout Badge Adventures: Bird Study on Jan. 11
The Hawk Woods Nature Center hosts programs for scouts, planned by the Nature Care instructors, and conducted in the Community Center Carriage Room. On Saturday, January 11, 2020, the badge is Bird Study. Individual scouts may register and groups of scouts are also welcome. Large groups can book private trainings. The Parks and Recreation Department can provide more information. There is a charge of $8 for resident Scouts and $10 for nonresidents. There is no charge for leaders/adults. Class time is 9:30 to 11:00 am.
Oakland Audubon Society: Young Birders on Jan. 25
Youngsters ages 8-18 are the target audience for the year-round activities of the Oakland Audubon Society. The Young Birders learn the importance of bird life and nature in the community. On Saturday, January 25, 2020 there will be a Snowshoes event, on the trails at Stony Creek Metropark, while watching for winter birds. Meet at the Nature Center in the park at 4300 Main Park Road, Shelby Township, MI 48316. The event runs from 8:30 to 11:30, and families are encouraged to explore the Nature Center after the hike. Metroparks permit is required for park entry. If needed, snowshoes will be available to rent fo $5. Parents should plan to accompany their children.
We Have Our Eye on Your Good Dental Health
We keep a keen eye on your dental health at every office visit and checkup. We want to help you have a happy, healthy smile. To learn more, schedule an appointment or initial consultation by calling Advanced Dental Concepts in Auburn Hills, MI today at (248) 852-1820.