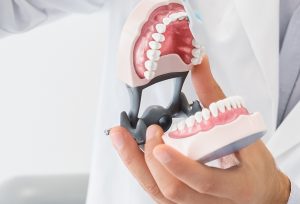 Tooth loss isn't usually inevitable, but it can occur for a number of different reasons. Fortunately, patients who experience it can lessen the impact that it has on their smiles, oral health, and daily lives by replacing their lost teeth with the right dental prosthesis. At our Auburn Hills, MI, dental office, we custom-design a prosthetic option to match most patients' tooth loss needs.
How does a dental bridge work?
Losing a single tooth is usually how most cases of tooth loss begin, even more severe ones. After losing a tooth, replacing it as soon as possible can help reduce the risks of losing more in the future, as well as restore your smile's health and appearance. A dental bridge is the traditional solution for replacing a lost tooth, and consists of a lifelike replacement (known as a pontic) and one or a pair of dental crowns to support it. The bridge will fill the gap in your smile with a replacement designed to closely match the size, shape, and healthy appearance of the tooth you've lost, restoring both your smile's appearance and your bite's function.
When is a partial denture the right choice?
Dental bridges are a great solution for addressing minor tooth loss, and can be designed to replace multiple lost teeth if they're adjacent to each other. However, they may not be the right option if you've lost several teeth that aren't positioned right next to each other. Instead, we can suggest a partial denture, which consists of a base that supports your replacement teeth and spans your upper or lower dental ridge. A partial is designed to fit around your remaining healthy teeth, and provide lifelike replacements only in the empty spaces where you've lost teeth.
How can a full denture rebuild your smile?
While it isn't as frequent as minor or moderate tooth loss, complete tooth loss can also become a serious threat if not addressed. A full denture is a complete prosthesis designed to rebuild your entire upper or lower dental ridge after suffering severe tooth loss. It consists of a complete row of highly customized replacement teeth and a comfortable, gum colored base that's designed to fit comfortably and snugly on your dental ridge. Rebuilding your smile with a full denture can restore your oral health and bite function, while also helping you regain a higher quality of life.
Find the best way to replace your lost teeth
If you've lost one or more teeth, we can custom-design the most appropriate replacement for them, according to your unique needs and preferences. To learn more, schedule an appointment or initial consultation by calling Advanced Dental Concepts in Auburn Hills, MI, today at (248) 852-1820.