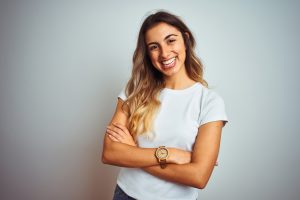 A truly confident smile can light up a room, make a great first impression, and dazzle even in a photograph. If you have a hard time smiling with confidence because of certain flaws that you feel uncomfortable with, cosmetic dentistry can be beneficial. At our Auburn Hills, MI dentist's office, we provide multiple cosmetic services to patients who want to feel more comfortable with their appearance. Porcelain veneers often help people address all of the concerns they have in a single procedure, as they effectively hide problems with the shape, size, and color of teeth. You can be surprised at how much difference this single treatment can make, and enjoy a life with a confident, charismatic smile!
Can I Really Count On Veneers To Improve My Appearance?
People make appointments to discuss cosmetic dental work with many different goals. One person might be tired of their dull, discolored teeth, while another can be embarrassed by a noticeable chip or crack in a tooth. With veneers, it is possible to make changes that make your smile, bright, even, and free of conspicuous problems. Because so many problems can be addressed at one time, and because custom veneers can be designed to help you show off your ideal smile, this treatment often helps people achieve all of their treatment goals.
Good News! Your Cosmetic Treatment Can Provide Results That Truly Last
When a person's smile is restored with veneers, you can count on your changes to last for a long period of time. When you observe just how thin veneers are, you can be surprised to hear about their durability. With that said, these restorations are strong enough to retain their shape and color even as you continue to bite and chew food.
Discussing Cosmetic Work With Your Dentist
If you want to learn more about how your smile can be improved, we can examine your teeth to determine if porcelain veneers are right for you, and make recommendations for care based on what your smile concerns are. While porcelain veneers are often useful, we can make sure that your treatment is ideally suited to you. If you have problems with the positioning of teeth, it may be more appropriate to address problems with orthodontic work. Thanks to Invisalign appliances, this can be done while limiting changes to the way you look during your adjustment.
Talk To Advanced Dental Concepts About Porcelain Veneers!
At Advanced Dental Concepts in Auburn Hills, MI, patients who are concerned about the way they look when they smile can count on our support! Through the placement of porcelain veneers, we can make sure your smile is no longer affected by discoloration, damage, or other concerns that might have hurt your confidence. If you would like to learn more, call Advanced Dental Concepts in Auburn Hills, MI today at (248) 852-1820.