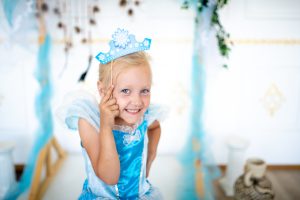 At Advanced Dental Concepts in Auburn Hills, MI, we want every member of your family to feel confident when they smile, so we are devoted to caring for the dental health of patients young and old. And, whether your family members are young or just young at heart, they are sure to have a magical time this weekend at the Fairytale Princess Ball.
What Is the Fairytale Princess Ball?
The Fairytale Princess Ball is an event being hosted by Fairytale Entertainment right here in Auburn Hills, MI. The event will feature a large cast of classic prince and princess characters from your favorite fairy tales dancing and performing in a grand ballroom, with your child able to dance along with them and become a part of their stories. The event is totally interactive for children, and includes lots of snacks and sweets for everyone who attends, as well as song, dance, and dramatic performances from all of the princes and princesses.
When and Where Is the Ball Being Held?
The Fairytale Princess Ball will be held this Sunday, February 16th, 2020, from 12 PM until 2 PM and then again from 3 PM until 5 PM. It will take place at II Gather More, located at 3391 Cross Creek Parkway, Auburn Hills, MI 48326.
How Much Are Tickets and How Can I Learn More?
Tickets vary in price depending on the experience desired. Child admission is $55 while adult admission is $35, but there are add on ticket packages including:
A $35 Grand Entrance for your child so that they can be announced with the rest of the royals and join the court as they enter
A $15 ($20 at the door) Crowning Ceremony for your child before the performance
Tickets can be purchased online through Eventbrite, which is also where you can find out more information about the event.
Keep Smiling With Good Dental Health
At Advanced Dental Concepts, we want your smile to shine like those of the princes and princesses. We are committed to keeping your smile healthy and beautiful, and offer several cosmetic and restorative procedures to help boost your confidence. Schedule an appointment or initial consultation by calling Advanced Dental Concepts in Auburn Hills, MI, today at (248) 852-1820.