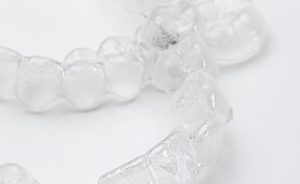 Straightening your smile when your teeth are crooked is one thing. Depending on how out of alignment your teeth are, the effects of your malocclusion can be significant, and realigning them can eliminate many of those effects. However, undergoing orthodontic treatment to straighten them is another thing entirely. For many adult patients, the idea of wearing metal braces for a few years can seem daunting, despite the inconveniences of their crooked teeth now. Fortunately, Invisalign® clear aligners can help alleviate those concerns by providing a more convenient and discreet solution to straightening crooked teeth.
Showing off your smile during treatment
Invisalign® aligners are clear because of the biocompatible, BPA-free acrylic that they're made from. The same material also allows for highly precise design that fits comfortably and securely over your teeth. The combination of clear acrylic and stable, comfortable fit make Invisalign® aligners virtually undetectable while you wear them. This allows you a much greater level of confidence in showing off your smile throughout the course of your treatment, which can sometimes be a deciding factor for patients contemplating orthodontic treatment.
Enjoying more of your favorite foods again
The appearance of your smile when you wear braces can be one of the more notable impacts that orthodontic treatment might have on your life. It's not the only potential impact, though, and many patients also consider how wearing bracket-and-wire braces can lead to other impacts, as well. For example, traditional braces often come with a warning to avoid certain foods while your braces are in place. They may damage the brackets and/or wires of your braces, or get stuck between them more easily than other kinds of foods. With Invisalign®, however, you can simply remove your aligners for a brief period, allowing you to eat your favorite foods without concern about damaging your braces or aligners.
Keeping daily life simple throughout your treatment
Food is one of the greatest joys in life, and being able to keep eating your favorite ones is as great a benefit as keeping your treatment discreet. However, Invisalign® also has direct benefits for the health and integrity of your smile throughout the course of your treatment, as well. By removing the aligners temporarily, you can also more successfully clean your teeth and gums by brushing and flossing them twice every day. This helps fight the development of harmful plaque better than you might be able to with traditional braces, which require cleaning around the brackets and wires each time.
Straighten crooked teeth with Invisalign® aligners
If you need to straighten crooked teeth, Invisalign® aligners can help improve your orthodontic treatment in several different ways. To learn more, schedule an appointment or initial consultation by calling Advanced Dental Concepts in Auburn Hills, MI, today at (248) 852-1820.