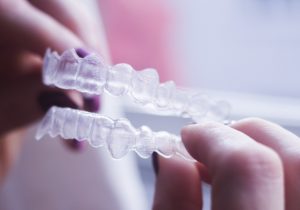 Though many people don't expect it, tooth misalignment can often become a problem long after your permanent teeth have fully developed. Even if they've always been straight before, one or more of several different conditions can sometimes force one or more of them out of alignment, requiring orthodontic correction to improve your smile. When this occurs, the surprising need for orthodontic treatment can often be confusing. Fortunately, we can often help make it a much more convenient and discreet process with the help of Invisalign® clear aligners.
1. They want to keep their treatment discreet
When older teens and adults consider orthodontic treatment, they often envision the metal brackets and wires that traditional braces consist of. This vision includes the impacts that brackets and wires can have on their smiles' appearance, and how they might impact their daily lives and interaction with others. The goal of many dental treatments is to remain discreet by being as lifelike as possible. With Invisalign® clear aligners, orthodontic treatment can also remain discreet by eliminating the need for brackets and wires to complete it.
2. They've already worn traditional braces before
Sometimes, the need for orthodontic treatment is a surprise because you've already undergone treatment before as a child. However, even after successful orthodontic treatment, some patients may experience an orthodontic relapse, in which one or more teeth once again become misaligned. Relapses are typically less severe than original tooth alignment concerns, and with the help of Invisalign® clear aligners, you can address one with greater comfort and discretion than your previous orthodontic treatment entailed.
3. They want to save time on daily hygiene and other tasks
The main factors in the discreet and comfortable nature of Invisalign® treatment is the fact that it consists of custom-designed, clear acrylic aligners instead of metal brackets and wires. However, the benefits of Invisalign® treatment also include a greater level of convenience when performing daily tasks like eating, or brushing and flossing your teeth. This is due to the fact that Invisalign® aligners can be temporarily removed for short periods each day. Instead of having to work around them, you can remove them before eating or cleaning your teeth, then replace them after cleaning the aligners, as well.
Learn if you should choose Invisalign® clear aligners
If your teeth are misaligned and need orthodontic correction, there are several reasons why you may want to consider choosing Invisalign® clear aligners to straighten them. To learn more, schedule an appointment or initial consultation by calling Advanced Dental Concepts in Auburn Hills, MI, today at (248) 852-1820.