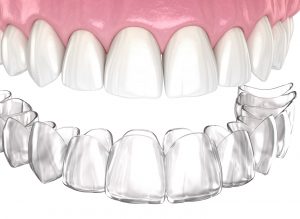 When your teeth aren't aligned properly, straightening them is always a good idea. Their proper alignment is an important factor in everything from the state of your oral health and integrity of your teeth to your bite's ability to function properly, and much more. Fortunately, many patients can benefit from straighter teeth in a more convenient and discreet manner than they might expect. Instead of relying on traditional, metal orthodontic braces, it may be a good idea to choose Invisalign® clear aligners to provide a more advanced teeth-straightening solution.
Straightening crooked teeth should be a priority
Any dental treatment you receive is a choice, but choosing to ignore crooked teeth can lead to significantly more complex concerns with your oral health. Nevertheless, patients may hesitate to undergo orthodontic treatment when they believe that traditional metal braces are the only way to achieve it. One of the greatest benefits of Invisalign® and other discreet orthodontic treatments is that they can encourage more people to seek appropriate treatment to correct crooked teeth before they cause more severe complications.
You don't want your treatment to be obvious
The most popular reason for many patients to choose Invisalign® clear aligners is their desire to avoid the visible impacts that traditional braces can have on their smiles. Utilizing a series of brackets and wires to straighten teeth can still be necessary in some instances, but in many cases, patients can keep their orthodontic treatment more discreet thanks to Invisalign's nearly invisible aligners. Instead of utilizing brackets and wires, Invisalign® corrects tooth misalignment by providing gentle pressure to teeth that are crooked. Each aligner is designed to continue your teeth's correction by picking up where the previous aligners left off, keeping the entire treatment process more comfortable and discreet.
You want to keep your treatment minimally invasive
Keeping your orthodontic treatment discreet is an important benefit to Invisalign® clear aligners, but as your treatment progresses, the advantages beyond their appearance can become much more apparent. For instance, because the aligners are designed to be removed and replaced as you progress through your treatment, they aren't bonded to your teeth the way brackets are. You can also remove your aligners before eating meals or cleaning your teeth, enabling you to continue your daily routines without having to alter them to accommodate traditional braces.
Learn if Invisalign® treatment could be good for you
If your teeth are crooked and you want to straighten them more discreetly, then ask us if Invisalign® clear aligners may be a good idea. To learn more, schedule an appointment or initial consultation by calling Advanced Dental Concepts in Auburn Hills, MI, today at (248) 852-1820.