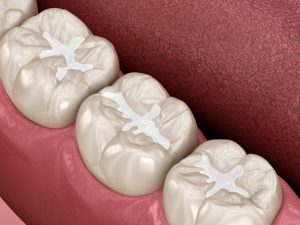 When you have a cavity, you need treatment right away to avoid complications, which could include dental infections or even tooth loss. To treat a cavity and restore your smile, your Auburn Hills, MI, dentist provides a metal-free and lifelike solution. Our fillings will return your smile to full function, health, and beauty.
The Causes Of Cavities
What causes a cavity to form? The outer enamel protects the sensitive inner tissues from exposure to bacteria. However, poor oral hygiene could over time weaken the enamel, exposing the inner dentin to bacteria and allowing decay to form. This could happen as a result of diet rich in sugary and starchy snacks and meals, which feeds harmful oral bacteria. Lack of proper brushing and flossing could also promote plaque buildup and enamel erosion. If you have an injury, or if teeth grinding wears down enamel, you could again be more likely to develop tooth decay.
Common Warning Signs
If you attend checkups and cleanings every six months, then we have a chance to identify the presence of tooth decay in the earliest stages of demineralization, catching them before you experience discomfort and treating the issue quickly. However, without these routine visits you may not know you have tooth decay until the later stages, at which point you experience tooth sensitivity to hot and cold foods and drinks, as well as a persistent toothache. Treatment is then crucial to avoid complications, such as the onset of a dental infection that could impact the stability of your aching tooth!
Lifelike Treatment Options
To treat the issue, we will first administer a local anesthetic and then remove any and all decay, and then thoroughly clean the tooth itself. We then prepare the composite resin material, which is a metal-free mixture of glass and acrylic. We tint the material to ensure it blends with the surrounding tooth structure. We place the material into the decayed portion and mold the tooth as we cure the composite resin under a light. Finally, we polish the tooth for a more attractive appearance. In a single visit, we stop the aches and prevent an infection. Following this, you should try to cut back on sugary foods and drinks, take time to brush and floss properly, and of course, see us every six months for a checkup and cleaning. If you have any questions about cavity prevention or treatment, then contact our team today.
Contact our Auburn Hills Office If You Have a Toothache!
We at Advanced Dental Concepts want to make sure you and your family continue to enjoy optimal oral health and a bright, cavity-free smile.  Contact our Auburn Hills, MI office by calling (248) 852-1820 today for more information or to schedule an appointment.