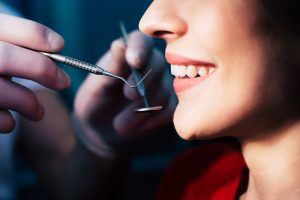 While making sure that your smile's function and well-being is a top priority to ensure a healthy grin, sometimes minor concerns can be troubling as well. Indeed, we endure a lot during an average day, as does our smiles, and sometimes they require a small boost to help us feel more comfortable and confident in our own skin. In today's blog, your Auburn Hills, MI takes a look at factors that contribute to a tarnished appearance, and how cosmetic teeth-whitening can help.
Stains Develop Over Time
In an ideal world, the only thing we would need to worry about would be dental decay, and everyone would be able to confidently sport their grin. Unfortunately, that is far from the case, as a myriad of factors contribute to our health and appearance. Take, for instance, the way most individuals begin their day. A morning cup of coffee serves as an effective source of caffeine that many rely on, but it is also an excellent source of stains. In fact, coffee contains pigments that stain the teeth and dampen their shine.
Another example includes the consumption of blackberries or cherries. These tasty fruits also have the ability to stain teeth a different shade. They also contain higher amounts of acidity that aid in breaking down your enamel. In other words, this means the stains will be even more set-in and difficult to remove without extensive treatment. While practicing an excellent preventive routine can be helpful in managing the extent to which your teeth are stained, sooner or later their appearance will become affected. Because of this, most adults can benefit from cosmetic dentistry.
From Dull to Vibrant
When you attend your teeth-whitening treatment, our team will begin by applying a strong but safe bleaching gel to your teeth. After this, we will activate the material utilizing a special light. This light stimulates the gel to begin breaking apart and lifting away stains, as well as brightening your grin. Once the treatment is complete, you will begin to notice changes of up to several shades brighter than before. What's more, our team offers take-home whitening kits so that you can brighten your smile when convenient for you. For more information about this process, contact our team today.
Enjoying Your Grin
While a healthy smile primarily consists of adequate function, you should be able to love your grin through and through. Cosmetic dentistry offers a conservative method for enhancing your appearance, and best of all, can be performed at your convenience. Reach out to us to learn about your other options.
Schedule Your Appointment Today
Contact Advanced Dental Concepts in Auburn Hills, MI by calling 248-852-1820 to learn more about your cosmetic dental options or to schedule your appointment with our team today.