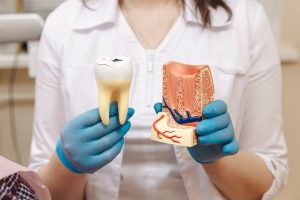 Just as you prioritize the preservation of your teeth, so does your dentist. Indeed, the last thing that anyone wants is for you to lose a natural structure, which is why such an emphasis is placed on excellent preventive care. In some scenarios, however, decay and other concerns can progress right before our eyes. Fortunately, that is where restorative dentistry comes in to help so that we may preserve your teeth and restore their function. In today's blog, your Auburn Hills, MI dentist takes a look at the manner in which dental decay claims a tooth and how a restorative root canal treatment can help.
A Bigger Threat with Decay Progression
It is no surprise that as decay progresses, it becomes a bigger and bigger concern. Indeed, in its earliest stages, it can be treated simply with a dental filling restoration that fills the newly created hole in a structure. As it continues, however, it will work its way deeper into the inner workings of your oral structures, significantly affecting the inner dental pulp and the nerves contained in the roots.
At this stage, you begin to endure sharp pains, sensitivity, and diminished oral function. What's more, previous treatment (including dental fillings) may fail as a result of the progression, meaning more extensive treatment must be sought. If you are experiencing any of these symptoms or need to schedule your next dental appointment, reach out to our team today to learn about your options.
Potential to Lose a Tooth
If help is not sought and the situation continues to worsen, you may be at risk of potentially losing your natural structure altogether. You see, oral concerns differ from other health-related issues, as they will not get better with time like some headaches or stomach aches do. Because of this, it is imperative you act sooner rather than later in order to best preserve your oral health. For more information about your options, contact our office today.
Preserving Your Natural Teeth
When the inner workings of a tooth become affected by decay, your dentist will likely recommend a root canal procedure as a last effort to salvage it. During this process, your provider will carefully but thoroughly remove the infected portions from the inner canals, then fill these hollow paths with a dental material. After this, a custom crown restoration is created to fit securely atop the affected area and protect the structure as it heals. When fillings and crowns on their own fail to address the infection, a root canal is the next best step.
Learn More Today
For more information about your restorative dental options or to schedule your appointment with our team today, contact Advanced Dental Concepts in Auburn Hills, MI by calling 248-852-1820 today.