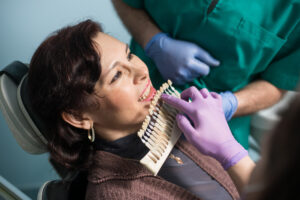 Taking care of your smile is a lifelong endeavor, and one that many people can benefit from revisiting. Indeed, a well-rounded preventive routine should consist of brushing, flossing, and rinsing with mouthwash in conjunction with attending regular in-office dental visits.  In an ideal world, this would be all that is necessary to guarantee a lifelong, jubilant grin. Unfortunately, dental emergencies and surface-level blemishes still can occur. In today's blog, your Auburn Hills, MI dentist discusses the need for cosmetic dentistry, and how most adults can benefit from treatment at some point in their lives.
Combatting Years of Wear
It goes without saying that your smile is constantly facing the threat of various bacteria, germs, and other concerns. As a matter of fact, this process begins immediately after your birth and will continue throughout your lifespan. With this information in mind, it is no wonder we must take a stand in our dental prevention so as to ensure we provide the protection necessary to keep our smiles strong.
Even still, you may be taking care to perform each area of your routine thoroughly to keep your grin healthy, but bear in mind that dental emergencies, significant damage, and other situational experienced may surpass your level of prevention. In other words, there are just some things that prevention cannot address, and when it comes to surface-level blemishes, cosmetic dentistry has you covered.
You see, cosmetic dentistry consists of any treatment that aims to mitigate the appearance of surface-level blemishes with discreet treatment. Indeed, most procedures are non-invasive in nature, and can even be completed in as little as a single visit. To learn more about this process, give our team a call today.
Addressing Chips and Cracks
As the name implies, cosmetic dentistry is an excellent option to consider when your smile is affected with surface-level concerns. This can include noticeable stains, as well as chips and cracks. After your chip or crack has been ruled out as a threat to your oral health, your dentist may recommend a next step of bonding and contouring.
Bonding and contouring consist of applying a composite resin material to the affected site and shaping it to conceal noticeable discrepancies. For more information about this process, make sure to give our team a call.
Providing a Seamless Finish
Finally, one of the major benefits of cosmetic care is the attention to detail in providing discreet treatment. You see, the composite material in bonding and contouring can be shade-matched to the natural hue of your smile, therefore providing a virtually seamless finish. Additionally, porcelain veneers are renowned for their highly lifelike appearance, making them another excellent treatment option.
Learn More Today
To learn more about the major benefits of cosmetic care, contact Advanced Dental Concepts in Auburn Hills, MI by calling 248-852-1820 to speak to a member of our team and schedule your visit today.