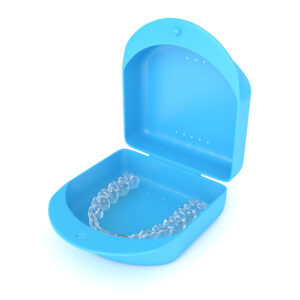 Did you know that we can correct uneven smiles without the need for metal braces? Instead, we could use a series of clear and comfortable aligners. In today's blog, your Auburn Hills, MI, dentist talks about how we can provide an esthetically-pleasing option for treating uneven smiles using the Invisalign® system.
The Benefits of an Even Smile
A smile without misalignment is much easier to brush and floss, which means a lower risk of tooth decay and gum disease. In addition, correcting malocclusion can prevent strain on the jaw joints and ensure balanced bites, lowering the risk of TMJ disorder or chronic teeth grinding (bruxism). You will also feel more confident, and never hesitate to smile and show off your new results! If you have crooked, crowded, and overlapping teeth, then you should consider seeking treatment to correct them. We could offer a straighter smile with a cosmetic set of orthodontic aligners.
Designing a Series of Aligners
Invisalign® can help teens and adults enjoy better oral health and more attractive smiles with a series of clear, plastic aligners. Each set is custom-made to ensure results with accuracy and precision. To create them, we will take detailed digital images of your smile from multiple angles, and combine them to create a 3D computer impression. This is then used in a lab setting to design and craft the custom aligners. They will fit comfortably and help you avoid cheek and gum irritation!
The Benefits of Invisalign®
When they're ready, you can enjoy treatment that is barely noticeable. A set is worn daily for about 20 to 22 hours, and each set lasts about two weeks. You will continue this process of wearing aligner sets for two weeks over the course of about one year to 18 months, depending on the extent of your misalignment. They will not only be nearly invisible, but they can be removed too! You can take them out before meals to prevent particles from being trapped in orthodontics, and you can brush and floss with ease since they can be taken out beforehand. You also have fewer office visits too!
If you want to know if this option is right for you, then we suggest scheduling an appointment for a thorough consultation, so we can choose the most appropriate treatment option for your smile. If you have any questions about Invisalign®, then please don't hesitate to contact our office today!
Do You Need Cosmetic Treatment?
We would like to help you enjoy an even smile without the need for metal braces. To learn more about cosmetic orthodontic treatment options, then please contact Advanced Dental Concepts in Auburn Hills, MI by calling 248-852-1820 to schedule your next appointment with our team today.