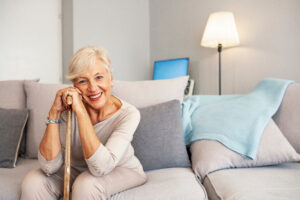 It is important to feel confident in your smile, but missing teeth can hinder this. If you are consistently dwelling on the state of your teeth, it can be difficult to enjoy life in the present. Whether you avoid posing for pictures or are self-conscious when you smile, the anxiety you may feel is very real. Moreover, missing teeth can cause additional health concerns like your jaw losing density or you not receiving enough nutrients from your food. Luckily, dentures are a helpful solution that can help you reclaim a full smile that you are proud of. In today's blog, your Auburn Hills, MI dentist discusses dentures and the benefits they can provide to you.
When Do You Need Dentures?
This prosthetic is a great option in numerous scenarios. They can replace a full row of missing teeth and can even seamlessly fit around existing ones. When you and your dentist decide dentures are the best option for your unique needs, they will create a custom set that is precisely designed to fit your mouth. Because of this, they will fit comfortably within your mouth and you will hardly notice their presence. Additionally, your dentist will color match them to look completely natural amongst your existing teeth. Even the gum portion of the dentures will match the precise shade of your natural gums. This custom care makes them unnoticeable within your mouth, as they never draw attention. Full and partial dentures are removable, so you can easily clean and care for them. 
Implant Retained Dentures
For a more permanent option, your dentist may suggest implant-retained dentures. Instead of resting on your dental ride, full and partial sets do, implants go into your gums and fuse with your jawbone. The dentures are affixed to titanium posts and remain secured in place. Not only is this a more permanent choice, the implants stimulate your jaw, ensuring that it maintains a sufficient density. This prevents the chances of your face sinking in — an unfortunate outcome for those who lose too much jawbone density. Moreover, when your jawbone is stimulated, it releases key nutrients into your bloodstream that keep you healthy and thriving.
How To Care For And Maintain Them
While dentures are prosthetic, you still need to properly care for them. Brush them as you would your natural teeth, and be sure that they do not dry out. When you are not wearing them, keep them stored in a cleansing solution or in plain water. The most important tip, however, is to listen to the instructions your dentist provides.
Contact Us To Learn More About Dentures
To learn more about the ways we can help you achieve a full smile, please contact Advanced Dental Concepts in Auburn Hills, MI by calling 248-852-1820 to schedule your next appointment with our team today. We look forward to helping you achieve the smile you deserve and one that you will feel great about!