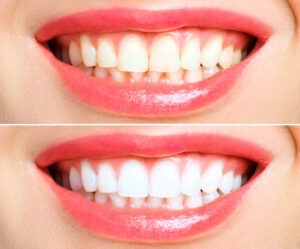 When you have discoloration, don't hide your smile or rely on the minor results that over-the-counter options provide, talk to our team. We have two professional teeth whitening options, and help you enjoy a stunning and shining smile! In today's blog, your Auburn Hills, MI, dentist talks about teeth whitening.
The Factors Behind Teeth Stains
Why do we end up with teeth stains? Discoloration could happen for a number of reasons. For example, eating foods high in sugar and starch creates plaque buildup, which makes stains more visible. Drinks with dark pigments, like coffee, red wine, tea, and soda, could stain the teeth, as could tobacco products. Lack of proper brushing and flossing is a factor, as is infrequent professional dental cleanings. Essentially, taking steps to enjoy better oral health could help your smile stay brighter for longer periods.
In-Office Treatment
If you need results quickly, for example if you have an event to attend or a first date, we could offer a smile brightened by several shades in only one visit. When you arrive, we will sit you down and place a protective coating on your lips and gums, and apply the bleaching gel to your teeth. A special light is then used to activate the bleaching ingredients and remove discoloration. The process takes as little as one hour, and could offer substantial results. Far more dramatic and longer lasting than store bought strips or toothpastes.
A Brighter Smile from Home
Our team also has an option you can use from home. You first stop by the office so we can take impressions of your teeth and use them to create a set of plastic trays. These will fit comfortably over your teeth, and we will send them home with you. We'll also provide a bleaching solution. At home, you will fill the trays with gel and wear them, for about 30 to 45 minutes a day, or for some patients, overnight. The total treatment time is about one to two weeks, and trays prevent saliva from diluting the gel and also ensure even results. For some, teeth could be up to eight shades brighter, and the risk of tooth sensitivity is much lower than with store bought options. You can even keep the trays and leftover gel for touch-ups in the coming months.
If you have any questions about teeth whitening, then contact our team today to learn more. We would love to help you obtain a brighter and more attractive smile, one that makes you feel confident.
Ready for Cosmetic Dentistry?
Our team wants to help you enjoy a smile brightened by multiple shades. To learn more about teeth whitening, then please contact Advanced Dental Concepts in Auburn Hills, MI by calling 248-852-1820 to schedule your next appointment with our team today.