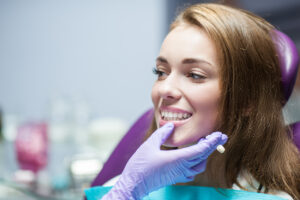 In an ideal world, taking care of our smiles would be not much more than just brushing and flossing regularly. While many people may currently believe this notion, it is important to recognize that it only represents part of the bigger picture. You see, there are countless threats that can come into contact with your smile on a daily basis, and unfortunately, there are significantly fewer natural defenses. Fortunately, this is where restorative treatment comes in to help. In today's blog, your Auburn Hills, MI dentist explains how dental crowns can be used to address varying degrees of bacterial infection, as well as what circumstances might benefit from a crown.
Protecting a Tooth from Outside Threats
It goes without saying that nobody would opt for a dental infection, if it was an option. the unfortunate reality is, however, that sometimes infections such as tooth decay or gum disease may affect your smile, and identifying the signs and symptoms early can be tricky. After all, bacterial infections occur on the microscopic level, meaning they can occur before your very eyes without much knowing involved.
Not only can dental infections infiltrate without your knowledge, but they can begin to develop and spread greatly as well. In many cases, a person does not know there is an issue until they begin to experience sharp pains, discomfort, and sensitivity. At this stage, the infection has worked its way into the inner workings of your tooth and begun to damage your sensitive nerves.
In order to protect an injured tooth from other outside threats, your dentist may recommend the use of a dental crown. A crown restoration consists of a hollow cap that fits snugly over a specified tooth and creates a shield or barrier from harm. Contact our team to learn more today.
Preventing a Spreading Infection
In addition to shielding an infected tooth from outside threats or harms, a CEREC dental crown can help prevent an infection from reaching other neighboring teeth. The important thing to know about tooth decay and other dental infections is that even with compromising a tooth entirely, the infection will only continue to spread. With the help of a crown, however, our team can develop a custom cap to protect your neighboring teeth in a single visit. To learn more about this process, give our team a call.
Providing Structural Reinforcement
A third and final benefit of CEREC dental crowns is that they can be used to provide structural support and reinforcement as a tooth is healing. For instance, crowns are often used in conjunction with a root canal treatment so as to allow the structure to heal without compromising your functional capabilities.
Ask Our Team About Your Options
Contact Advanced Dental Concepts in Auburn Hills, MI by calling 248-852-1820 to learn more about the importance of seeking timely restorative dental care, and schedule your next appointment with our team today.