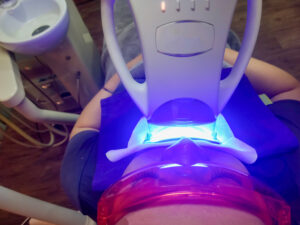 It goes without saying that when you seek dental care, your oral health is always going to be the top priority to consider. After all, your smile is constantly facing a barrage of threats on a daily basis, and unfortunately, there are not nearly as many protections to compare. Still, many concerns may only impact your smile in a surface-level manner, and you should be able to feel comfortable and happy in your own skin, starting with your smile's appearance. In today's blog, your Auburn Hills, MI dentist explores the benefits of pursuing cosmetic treatment and details how teeth whitening can enhance your oral appearance.
Addressing Years of Damage
Believe it or not, your smile is subject to a constant barrage of threats and incessant wear and tear. For instance, the cup of coffee you consume to kickstart your day every morning has staining pigments that contribute to a duller shine.
Another example might include a diet that contains a large amount of sugar. You see, sugar feeds bacteria and encourages it to produce destructive acids that aid in the tooth decay process. These examples and a host of others occur in conjunction with one another and contribute to a less strong structures and a greater likelihood for infection, stain development, and more.
Not only do all of these factors negatively influence your smile's health and appearance, but they continue to do so for years! With all of this in mind, it makes sense that most adults could benefit from a cosmetic enhancement at least once in their lives, and teeth whitening has the answer. To learn more about this process, give our team a call today.
What to Expect from In-Office Care
When you come in for your dental whitening appointment, our team will begin by applying a strong but safe bleaching agent to the surfaces of your teeth. This gel works to break apart and lift stains from the surfaces of your teeth.
After the material has been applied, we will use a special light to activate it. It will begin to foam and start removing years of difficult stains and discoloration. Once your treatment is complete, you will begin to notice a difference of up to several shades in the days following your appointment. Contact our office to learn more.
Take Home Trays For Your Convenience
In addition to our in-office treatment, we can create custom whitening trays for you to take home. This allows you to enhance your smile's appearance at your own convenience without having to worry about over-the-counter products that provide less of a change.
Schedule Your Appointment Today
Contact Advanced Dental Concepts in Auburn Hills, MI by calling 248-852-1820 to schedule your next appointment with our office and learn more about the value of enhancing your smile's appearance with quality teeth whitening treatment.