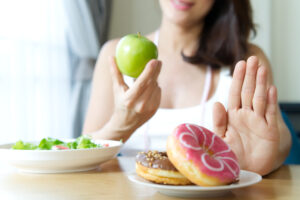 Taking care of your smile is a lifelong process, and one that follows you well into adulthood. Indeed, from the moment your first tooth arrives, your smile is considered to be under the threat of various dental concerns, including bacteria-related issues, physical accidents, and dental emergencies. While you may be taking care to brush and floss as intended, it is also important to keep in mind just how much your diet affects your oral health. In today's blog, your Auburn Hills, MI dentist explains how certain foods and beverages can impact your oral health.
Candy and Sweets Lead to Cavities
From a young age, your parents likely instilled the importance of caring for your smile on you and your siblings. Though at the time it may have seemed like nothing more than a ploy adults used to make you do things you did not want to, in all actuality, it helped to create a foundation of effective preventive care.
Indeed, dental prevention is considered to be the name of the game when it comes to your oral health, and prevention is essential for a lifelong, strong smile. This often takes the form of attending dental checkups, as well as brushing and flossing at home. Additionally, it is important to recognize the role your diet plays in the process, too.
Throughout the years, you may have heard that sugar rots your teeth. This is because sugar, in particular, feeds the oral bacteria that lurk in your mouth and causes them to produce a destructive acid, which is a key component in tooth decay. To learn more about this process and how our team can help, give us a call today.
Being Cautious About Staining
Another influence your diet has on your smile is the way certain items can contribute to staining. Indeed, discoloration may develop as your smile ages, but stains typically occur as a result of consuming items with staining pigments and/or high acidity.
Berries, for example, tend to contain higher levels of acidity as well as staining pigments. This can be shown whenever you consume raspberries or blackberries, as well as when you consume coffee on a regular basis. Contact our office today to learn more about your treatment options.
Why You Need to Drink Water
One of the biggest gifts you can give your smile – and body, for that matter – is the gift of water. Not only is it essential for your health, but it contains the naturally-occurring mineral fluoride, which helps to strengthen your smile's natural protective layer of dental enamel that surrounds every tooth.
Learn More Today
Contact Advanced Dental Concepts in Auburn Hills, MI by calling 248-852-1820 to schedule your next appointment with our office and learn more about your treatment options to help maintain a healthy and strong smile.