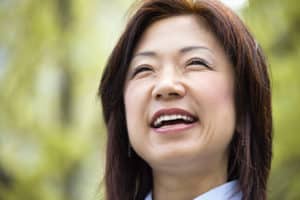 If you are dealing with tooth loss, you may already be actively searching for the right dental prosthetic solution. Tooth loss can be a source of embarrassment to those who experience it. It can also create frustrating functional issues. If you want to provide real, long-lasting support for your prosthetic, inquire about a dental implant. The implant acts as a sort of artificial tooth root, which will allow you to use your restoration for biting and chewing. It can also feel like a more natural form of support. Because it takes a surgical procedure to place the implant, you may be concerned about your candidacy. One major issue is with your jawbone – because the bone can deteriorate because of tooth loss, waiting too long for help can cause complications to arise.
How A Dental Implant Is Placed
Placing a dental implant calls for oral surgery. If you are incapable of going through this because of health reasons, you can still enjoy a permanent replacement tooth thanks to a dental bridge. However, if you do qualify, you can have the implant inserted into your jawbone, where it will occupy the space once taken up by your tooth root. Your permanent restoration cannot be fitted on the implant until you have appropriately healed.
The Advantages Of Implant-Supported Prosthetics
An implant-supported prosthetic has the ability to stop jawbone resorption. Jawbone resorption occurs when you have lost a tooth, and the surrounding bone tissue breaks down. This can hurt your oral support. Support with an implant can also help with other matters, like the risk that teeth neighboring an absent will shift or loosen.