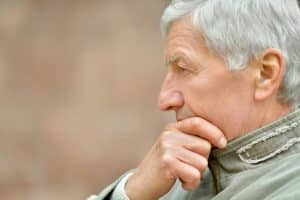 Because tooth loss carries serious cosmetic repercussions, you may worry that even with a dental prosthetic, your smile will not look right. One thing you should understand is that missing teeth cause more than just troubles with your smile – your jaw function is compromised. That being said, when you have a dental implant support a replacement tooth, you can have a realistic-looking prosthetic that helps you feel like you have your smile back. Your dentist can use an implant to hold a dental crown in place, but implants are also capable of holding bridges, partial dentures, or full dentures. These prosthetics, made with life-like materials, can help your smile feel complete, and attractive, once again.
A Dental Implant Can Hold A Natural-Looking Prosthetic
A dental implant can make sure your prosthetic has the support it needs. A single implant can act like a tooth root for a replacement tooth, or your dentist can place several, which can hold a more significant restoration, like dentures, or a bridge. The type of support your implant provides mimics the support teeth receive from their roots – the implant connects the restoration to your jawbone. In addition to providing a stable hold, which can improve your dental function, your implants can be relied on to provide support for natural-looking restorations.
Paying Attention To The Range Of Issues Caused By Tooth Loss
Tooth loss can seriously complicate your oral health in several ways. Your daily actions may be forcibly altered as you work around absences in your smile. You also face the risk of deterioration in your jawbone. That issue, caused by lack of stimulation in the bone, is only addressed when dental implants are present – a prosthetic without implant support will not stop this from occurring.
Your Dentist Can Help You Enjoy A Prosthetic That Provides Natural-Looking Support
Your Auburn Hills, MI dentist, Dr. Okoniewski, is capable of providing prosthetic support that can help you regain your complete smile. When you have dental implants to support your prosthetic, you can have functional support, and also avoid the loss of bone in your jaw, a common problem for people who have lost teeth. To learn more about what sets our office apart from the rest, or to schedule an appointment or consultation, call Advanced Dental Concepts in Auburn Hills, MI today at (248) 852-1820.