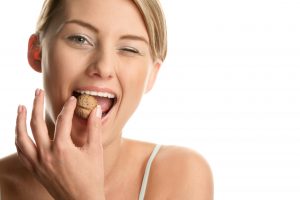 Just when you thought you were sinking your teeth into a super soft, delicious snack, surprise! Your tooth hit a hard seed, leading you to a broken tooth and the need for restorative care. Unfortunately, in reflection of the whole experience, you realized you never had even the slightest idea that there could have been something extremely hard in your tooth's way! Of course, there's always the chance that life might throw the unexpected in your direction (and possibly the direction of your smile). However, our Auburn Hills, MI team is here to at least help you get to know some common hiding places of seeds and nuts for better smile health protection.
Seedless Fruit, Believe It Or Not!
Believe it or not, seedless fruit is not always seedless. Yes, it says that it contains no seeds because it has been carefully bred in order to provide you with an easy eating experience. However, you don't want to take any risks when it comes to your smile health and the possibility of a cracked tooth. So, what to do and what to think? Here's the deal: Even in seedless fruit, it's still possible for there to be a hard seed here and there. Cut your fruit up. Bite carefully and slowly. Simply practice caution to avoid a sudden rush to our practice for restorative care.
Candies And Pastries
This one isn't as shocking but it is certainly worth mentioning! Remember, just because you usually eat soft truffles or soft center candies, you never add nuts to your brownies at home, etc., it is always worth a bit of investigation when you're about to bite into something sweet. Ask questions. Do a bit of investigating. If there's an almond lurking just beneath the surface, that bit of detective work can protect your smile health from suddenly requiring a visit to our practice for help!
Salads!
While you might not always put fruit, berries, olives, or nuts on your salad, the person hosting a dinner party you're attending might! Or, the restaurant at which you are dining might. So, always take a closer look before just chomping away. There may be a nut, seed, or pit where you least expect it.
Protect Your Smile Health With Surprising Tips!
Come on in not only for dental cleanings and such but also to receive some shocking care tips you may never have considered before for your smile! Remember, the more knowledge you have, the better equipped you become! To learn more, schedule an appointment or initial consultation by calling Advanced Dental Concepts in Auburn Hills, MI today at (248) 852-1820.