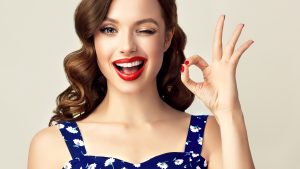 You know that we offer Invisalign treatment, as well as Fastbraces. So, whether you want a clear aligner system for your smile alignment or you decide that brackets and wires (with accelerated care) is that way to go for your straighter smile, you have choices. What you may not know so much about is all that you actually do for your grin when you decide that aligning your teeth is your goal. Yes, you know that your once crooked, spaced, overlapped, or otherwise teeth are going to rest next to one another in a beautiful, strategic arrangement. However, what's that really do for you, you wonder? Let our Auburn Hills, MI explain!
More Confidence
When you have a straighter smile, unless you truly embrace every single thing about yourself and your appearance, chances are good it will boost your self-confidence. When your teeth are crooked, overlapping one another, when you have gaps, or when other smile issues are affecting your alignment, you may feel embarrassed about your grin. Fortunately, once you address such concerns with our orthodontic care, you can transition from feeling upset to feeling proud!
Easier Chewing, Speaking, Resting
Did you know that when your teeth aren't as straight as they could be, you could end up dealing with some problems? It's true! When you decide that you're going to move ahead with treatments like Invisalign or Fastbraces, you're allowing your smile to fit together correctly once teeth are in their proper positions. This will improve the way you chew, the way you speak with others, and even your comfort when at rest!
Protection Against Hygiene-Related Illnesses
You might be much more likely to experience tooth decay, gingivitis, and more before you achieve your straighter smile. This is because spaces promote an environment in which food becomes trapped, while tight spaces are very hard to clean. No matter your type of misalignment, keeping your smile super clean is extra challenging. Align those teeth, however, with something like Fastbraces and your trouble is gone!
Protection Against Functional Concerns
Just as significantly as misalignment can impact your oral health in terms of hygiene, it can also affect it in terms of function. As mentioned, your teeth might not fit together very well, which is why you're considering orthodontic care. If you cannot chew, rest, or speak comfortably due to the way your teeth contact (or don't touch) one another, this can invite the development of issues like bruxism or TMJ disorder. Straightening your smile will help.
Consider Orthodontic Improvement With Us
Come on in to learn more about the orthodontic care solutions we happily offer to our patients, so you may turn your not-so-aligned smile into the straighter, beautifully aligned grin you want for your appearance and health! To learn more, schedule an appointment or initial consultation by calling Advanced Dental Concepts in Auburn Hills, MI today at (248) 852-1820.