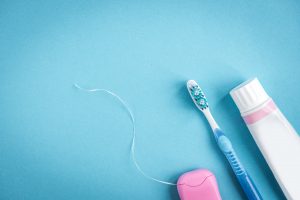 When you're caring for your smile with dental hygiene, what you want is to get into the bathroom, to brush and floss, and to be done all within a quick flash, whip, zip, and you're onto the rest of your day! However, our Auburn Hills, MI team reminds you that there are distractions that may either make or break your experience with keeping your care streamlined and with allowing you to do a wonderful (or not so wonderful) job. What types of details might you need to consider, you wonder? We're happy to help you out with a new perspective, so you can make any necessary changes for better success.
When Distractions Bring Your Brushing To A Screeching Halt
If you're easily distracted, then we remind you that it may be to your benefit to try to keep any and all possible extra stimuli out of the bathroom. For instance, some patients do wonderfully when they brush their smile as they watch a video on a tablet. However, if you're the type of person who will become fully absorbed in this other thing, as your brushing screeches to a halt, then this isn't for you. We remind you to keep your bathroom space free of distraction, focus solely on dental hygiene, and then you'll be done!
When You Have A Hard Time With Technology
Remember that protecting your smile from problems like tooth decay simply means you need to practice your dental hygiene thoroughly and consistently. That doesn't mean that you need to include the most technologically advanced items you can find! If you discover that as you brush and floss, you're becoming distracted due to the newfangledness of your products (or you're simply using items that may require improvement in usability), then you may simply need to go back to basics. Don't waste time with an electric toothbrush and confusing app when, instead, you can use a manual toothbrush and a sand timer or clock to time your session. See what we mean?
When There's Too Much Prep Work
Protecting your smile from the future need for restorative dental care? It's supposed to be very easy. In addition to seeing our team twice a year, you need to brush and floss every day. As noted, that's just twice a year that you have to come in. As for your dental hygiene, it should be a quick, streamlined experience. Remember: Making it easy means having a space that's prepped and ready to go. Be sure you have easy access to your brush, toothpaste, floss, etc., so there's no extra work involved!
Learn About Streamlining Your Care
When dental care is causing you upset strictly because you're having a hard time getting through your dental hygiene with ease, we can help. See our team soon, so we may offer very helpful assistance! To learn more, schedule an appointment or initial consultation by calling Advanced Dental Concepts in Auburn Hills, MI today at (248) 852-1820.