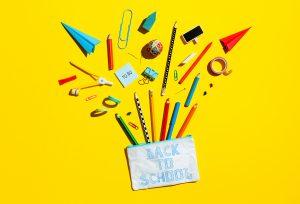 Are you ready for back to school? Are you shrugging and feeling a little bit confused because you aren't going back to school but your kids are? What our Auburn Hills, MI team would like to remind you, of course, is that the whole family is impacted by summer vacation and by that moment that school is back in session. In addition, the entire family needs to keep up with professional dental care and home care in order for their smiles to remain healthy. So, ask yourself what you might need to do for every member of your crew to have smiles that are fully caught up, healthy, and ready by the time that first class of the brand new school year begins!
Get Dental Hygiene Products Soon
If you can't necessarily say that you have dental care products ready to go, so that the first day of school includes a very easy morning, during which everyone has a new toothbrush, sufficient toothpaste, dental floss, etc., then now is certainly the time to take care of the details. You may want to simply add dental hygiene items to your child's back to school supply list or even clothing shopping list, etc., so you remember when you're out and about to take care of this essential detail, as well!
Ask Questions Today!
Not really sure what to buy your children or yourself anymore in terms of dental hygiene products? Don't wait until the school year is back in session, or you may end up waiting quite a while to find out! Instead, schedule a dental visit with our team either for yourself, your kiddos, or both!
Address Smile Complaints ASAP
Who has a smile-related complaint in your home? Have you been dealing with a sore that's been coming and going over the summer? Maybe your spouse's gums look a bit puffy. Perhaps one of your children has been complaining of a bit of a toothache or sensitive teeth. We remind you that taking care of details like these during the summer is always so much easier than during the school year. Why not send the kids back to class with healthy, comfortable smiles, so they can focus on enjoying themselves and learning (and so you aren't distracted either by your own oral health issues)? All it takes is setting up a dental checkup with our team very soon for dental care!
Get Your Back To School Visits Scheduled! 
Contact our team to set up a back to school appointment with our friendly team for your children, for your teens, or for yourself! We look forward to seeing you and your family and preparing you for the school year. To learn more, schedule an appointment or initial consultation by calling Advanced Dental Concepts in Auburn Hills, MI today at (248) 852-1820.