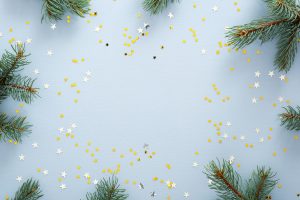 It's an easy question to answer: Do you feel as though your smile is currently ready for the holiday season? If the answer is yes, then it's a loud resounding yes! If not, then the answer is probably somewhere between "nope" and "sort of," both of which still qualify as a "no." So, our Auburn Hills, MI team has to ask (unless your grin is ready to go), what's missing from your smile's current condition, either in terms of your smile health or the way this very important feature looks that is keeping you from feeling fully prepared in the grin department for the winter festivities that are about to commence? Not sure but you know there's something you should consider? Allow us to help!
Have We Checked On Your Smile Recently?
Can you close your eyes, pull up the date of your last dental checkup and cleaning in your mental files, and quickly determine that it took place within the past six months? No? If not, then don't head into holiday time without this essential aspect of your dental care! Heading toward the fun, food, and festivities of this time of year means it's time to get your smile health in the best condition possible, so you don't deal with an unexpected but avoidable problem like a toothache when you should be having fun!
Are You Ready For Holiday Travel?
Are you all ready to go for holiday travel? For parties at the homestead? Whatever you have planned, remember the following to ensure your smile health (and a lovely, relaxing time):
If you're traveling, prepare ahead of time by making sure you have all of the dental hygiene items that you need!
Write a list, so you don't forget something very important (like your sleep apnea appliance)
See us for any remaining treatments you need to get your smile healthy, such as a filling, to avoid complications that nobody wants to face during holiday time!
Do You Feel All Glow-y And Bright?
Not loving your dim smile at the moment? Upset because you promised yourself that this would be the year you enjoyed holiday parties with a vibrant, snow-white grin but you never came in for cosmetic care? No worries! You are not without ample time to see our team to discuss cosmetic treatments and to then follow through before your first major party! That is, assuming you get in touch with us immediately. Call our team today to get the ball rolling with whitening or other care.
Get Your Smile Ready For Celebration! 
Don't enter into the winter holiday season full of disappointment in terms of your oral health or the way your smile looks! Call us soon, instead, so we can get you on track with a healthy, amazing grin! To learn more, schedule an appointment or initial consultation by calling Advanced Dental Concepts in Auburn Hills, MI today at (248) 852-1820.