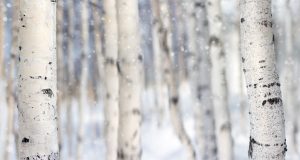 Winter is a time to get cozy by the fire, but you and your family can also get energized by donning jackets and scarves and enjoying the outdoors with a winter hike at Hawk Woods Nature Center in Auburn Hills, MI. This beautiful wilderness area has over 80 acres of woods, along with groomed trails, picnic areas and heated restrooms. It is open year round, for individual exploration, or for supervised activities like the Winter Hike.
Where is Hawk Woods Nature Center?
You will find the nature center at 3799 Bald Mountain Road, Auburn Hills, Michigan. The hikers will be meeting at the Pavilion. Hawk Woods is part of the Parks and Facilities of Auburn Hills, MI.
When Does the Winter Hike Take Place?
The hike is planned for January 25, 2020. It will begin at 9:30, and lasts about an hour. You will enjoy time outdoors with a guide, and may see some wild creatures, animal tracks, beautiful scenery and more.
Is Everyone Welcome?
This event is free and family friendly. Please make sure your little ones are dressed warmly and ready to walk. Children should be accompanied by adults. If you aren't a hiker, but still love the outdoors, you can consider volunteering at Hawk Woods, by calling for official volunteer information at (248) 370-9353.
How May I Learn More?
If Your Teeth Tingle With The Cold, Come Consult with Us!
Winter hikes are fun, but if your teeth are becoming more sensitive to the cold, we can help you find out why your teeth sensitivity is changing. To learn more, schedule an appointment or initial consultation by calling Advanced Dental Concepts in Auburn Hills, MI today at (248) 852-1820.