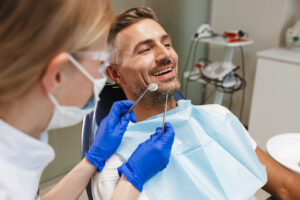 Whether you are aware of it or not, snoring and teeth grinding are actually indicators that something is amiss in your sleep routine. While you may have been led to believe that snoring is a sign of good-quality sleep, in reality, it is actually an indicator that your airway is being blocked in some way, shape, or form. Indeed, these nontraditional dental issues can impact you in various ways, just as traditional concerns of tooth decay and gum disease can. In today's blog, your Auburn Hills, MI dentist takes a look at the important role your routine checkup plays in your oral health, as well as how our team can help.
A Primary Function of Prevention
Way back when you were just a small child, you likely have memories of your mother, father, parents, or guardians teaching you to brush and care for your teeth. Indeed, you may have embraced this proudly, or you may have thought it was just another ploy by your parents to get you to do something you did not want to.
Regardless of which circumstance applied to you, it is important to recognize the influence these practices have had on your oral health today. You see, the earlier you start preventive care, ideally, the better chances you have at maintaining a healthy smile for life.
Dental prevention is considered any practice that aims to prevent bacteria, germs, and other concerns from complicating your structures' health. At home, it consists of brushing, flossing, and rinsing with mouthwash, while in-office, it means attending your routine checkup. To learn more about this process and how our team can help, give us a call today.
Providing a Professional Opinion
Although you may think your at-home routine is sufficient for your oral health, you may want to think again. In fact, a dental examination provides a unique opportunity to have your grin inspected by a dental professional. What's more? You will obtain a more detailed and accurate understanding of your level of health, as well as learn your treatment options moving forward for care. Finally, we will perform a thorough dental cleaning to rid your structures of deep-set plaque and tartar buildup. Contact our team today to learn more about your treatment options and scheduling your visit.
Minimizing Chances of Major Concerns
In addition to providing a professional look at your smile's health on a molecular level, your routine checkup can help identify minor issues and address them before they develop into major complications. As we previously mentioned, it is always better to seek treatment sooner rather than wait and see what happens.
Schedule Your Visit Today
To learn more about the importance of attending your routine dental visits, contact Advanced Dental Concepts in Auburn Hills, MI by calling 248-852-1820 to schedule your next appointment with our team today.