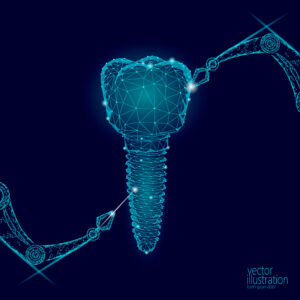 It goes without saying that tooth extraction is the last thing a person wants to endure, but sometimes it may be the only viable option left to prioritize your oral health. Indeed, your smile's health is always going to be the top priority, but that does not mean that other complications won't arise from removing a permanent tooth. In today's blog, your Auburn Hills, MI dentist explains why it is important to have a missing tooth replaced and how dental implants not only restore your smile's health but provide functional and structural benefits as well.
Understanding the Relationship
Your teeth are some of the strongest bones in the human body, but just because this is true, that does not mean they are indestructible. Indeed, your teeth face a barrage of threats on a daily basis, from the wear and tear of everyday life to unique complications. When a tooth is removed from the equation, it affects your smile's health and function in more ways than you might think.
Take, for example, your smile's ability to support the pressure of your bite. You do this regularly, but have you ever wondered how it can be accomplished? You see, your crowns have the ability to support the pressure of your bite due to the secure connection between your teeth roots and jawbone.
The jawbone stabilizes your teeth roots while the roots stimulate the jaw tissues. This creates a symbiotic relationship between the two that helps keep the jaw structure strong and allows the teeth to perform routine tasks such as biting, chewing, and eating. To learn more about this process and how our team can help, give us a call today.
Maintaining Structural Integrity
When a tooth is no longer present, your entire bite must shift to accommodate the missing structure. In addition to this, there is nothing present to stimulate the jaw tissues in the area, leading to a greater chance of jawbone degradation.
To successfully address these issues, our team recommends seeking prosthetic treatment in the form of dental implants. You see, these solutions mimic the entire crown and root structure of a tooth, allowing the prosthetics to address your structural needs. Contact our office today to learn more about your treatment options.
There are Functional Benefits, Too
With the help of dental implants, you can achieve your smile goals by not only completing your smile once more but addressing functional complications that may have arisen as well. By replacing the entire crown and root structure of a tooth, your artificial crown will be able to support the pressure of your bite like normal.
Give Our Office a Call
Contact Advanced Dental Concepts in Auburn Hills, MI by calling 248-852-1820 to learn more about the functional and structural benefits of implant dentistry, and schedule your next appointment with our office today.