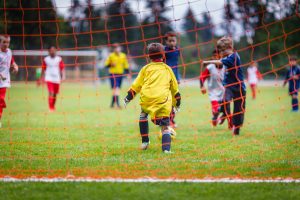 You may think to yourself that you don't remember ever wearing a mouthguard when you were a kid. However, you may also remember some kids involved in particular sports who had to wear them. Then, there was that one friend of yours who had a tooth knocked out during a soccer game! While it may not seem like a huge threat, participating in sports (though this is a wonderful thing) can place your child's oral health in the direct line of potential trauma. Choose a mouthguard to prevent damage, it's easy and worth it!
Pick One Up On Your Own
There are certain things we will advise against for your smile health and your children's oral health when it comes to heading to the drugstore if you're considering over-the-counter purchases. However, if it's an athletic mouthguard, you are absolutely free to choose this route. If your child is participating in activities like sports and is not wearing one, grabbing a child's guard from the drugstore or a sporting goods store will certainly provide you with the protection you're seeking.
Choose A Custom Guard
It's not necessary to choose a custom-made athletic mouthguard for your child. However, it may offer some benefits you cannot expect from universal children's guards purchased from the store. We will craft it to fit your child's smile precisely. As a result, it will fit more comfortably, may not seem quite as bulky, and you may have an easier time convincing your little one to pop it into his or her mouth before a game for oral health protection.
Talk With Us About Athletic Mouthguards
If you have an active child involved in sports, seeing us about a custom mouthguard is extremely helpful in protecting your son or daughter's oral health. To learn more, schedule an appointment or initial consultation by calling Advanced Dental Concepts in Auburn Hills, MI today at (248) 852-1820.