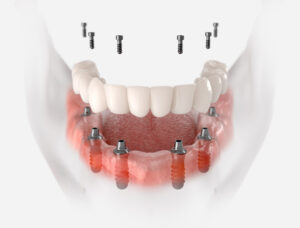 While losing a tooth as a child may be a natural phenomenon, losing teeth as an adult is considered to be a permanent phenomenon. Indeed, your adult structures will not come back once they are gone, and even though you may feel comfortable enough to sport a noticeable gap in your grin, it is important to know that the complications that can arise will not stop at your smile's appearance. In today's blog, your Auburn Hills, MI dentist will discuss the importance of having lost teeth replaced and describe what your treatment options may look like.
Addressing Function With Implants
When it comes down to it, nobody's first choice is to lose a permanent tooth. Unfortunately, many situations can arise in which this decision is completely out of one's hands. Our goal as your dentist is to try and help save your natural teeth, but sometimes the best way to prioritize your oral health is to have a compromised tooth removed entirely.
In our previous blog, we took a look at the ins and outs of implant dentistry and discussed the benefits of lifelike dental implant posts. To recap, implant dentistry utilizes biocompatible titanium posts and an artificial crown restoration to help restore your smile's appearance. Because your implant post and crown are designed to function in a way similar to your crown and root system, these solutions can help address functional and structural concerns as well.
When you come in for your dental implant treatment, we will take care to obtain your measurements for accuracy and create a treatment plan with you to ensure your best interests. For more information about this process and how our team can help, give us a call today.
Spanning a Gap with a Bridge
If dental implants are not a viable option for you, do not fret! A dental bridge restoration can help span a gap of varying sizes with lifelike accuracy. You see, a dental bridge is considered to be one or more artificial crowns, or pontics, that are bonded to one another and secured through bonding to the healthy teeth that are closest to the gap.
If your tooth loss has not occurred in a clustered area, then our team can assist with the help of a custom partial denture set. Contact our office to learn more about your prosthetic dental treatment options today.
Dentures for Total-Smile Restoration
We recognize that tooth loss can affect people differently, and as such, treatment should be customized to meet your needs precisely. If you are experiencing the loss of most or all of your teeth, we are more than happy to discuss your denture options and what to expect from treatment.
Give Our Team a Call
Contact Advanced Dental Concepts in Auburn Hills, MI by calling 248-852-1820 to learn more about your prosthetic dental options and schedule your next appointment with a member of our team today.