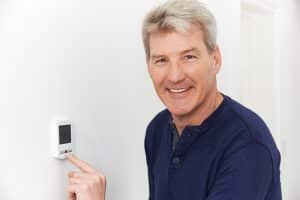 Our bodies change in myriad ways as we age. However, with proper care, we can limit the negative effects we fear from aging. Putting a proper emphasis on your oral health needs today can help you avoid tooth loss later in life. Did you know that the most common cause behind adult tooth loss is poor gum health? The effects of advanced gum disease can lead to tissue damage that takes away support from our teeth. With good periodontal care, you can stop an infection from developing, and becoming a menace to your smile. If an infection is not treated in time, it can become impossible to reverse. Regular checkups with your dentist can protect you by making sure you aware of problems with your teeth, and your gums, earlier in their development.
Good Periodontal Care Can Limit Your Tooth Loss Risk
Keeping up with good oral care means keeping your gums in good shape, too. Brushing and flossing can eradicate the oral bacteria that are capable of causing periodontal infections. However, if you detect evidence of gingivitis, your dentist can help. Gingivitis is often reversible when you undergo a scaling and root planing.
Regular Checkups Can Keep You Informed About Potential Oral Health Issues
When you come in for routine dental visits, you can enjoy regular updates about the status of your oral health. Hopefully, this is a recurring confirmation that everything is in order. However, if a problem does form, having semiannual checkups means having problems found, and treated, before they grow serious. In addition to stopping gum disease before it becomes serious, this can help make sure any cavities that develop on teeth are quickly caught and treated.
Your Auburn Hills, MI Dentist Can Help You Keep A Healthy Mouth, And Avoid Future Tooth Loss
If you take better care of your smile today, you can enjoy the benefits tomorrow, and beyond. With regular preventive dental care at Advanced Dental Concepts, you can guard yourself against potential oral health threats. To schedule a visit with Dr. Okoniewski, call Advanced Dental Concepts in Auburn Hills, MI today at (248) 852-1820.