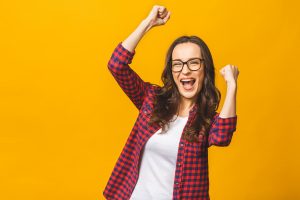 When you learn that we offer CEREC crowns at our Auburn Hills, MI dental practice, you know that this is a good thing! You hear the excitement in our voices as we mention it, you have heard this term before, but as far as you are concerned, you don't know what makes this any more wonderful than a traditional crown (and you've never been too excited about those). So, what's the big deal and what are these amazing benefits you aren't clued into just yet? Why, we would be ever so happy to share them with you!
#1: It Looks Like Your Own Tooth
First, let's begin with the exciting fact that when you receive a CEREC crown from us, you are going to be able to look forward to a restoration that looks like your own, natural tooth. Why is this the case, you ask? Well, to begin, remember that this type of crown is made at our practice with the help of advanced technology that lets us completely customize the restoration, which is then milled out of porcelain. So, it's going to blend beautifully with your other teeth in terms of esthetics, in terms of your bite, in terms of the shade, and in terms of the fact that porcelain is lifelike!
#2: It's All Done In Just One Day
Onto the next exciting fact: CEREC crowns, as you have likely begun to gather, are made within just one visit. It's why you will frequently hear them referred to as one-day dental crowns or one-visit crowns. When we say all in one visit, we really mean it: It includes not only the crafting and placement of your crown but also gathering dimensions of your smile.
#3: It's Designed With Advanced Software
We remind you that it's all about the advanced technology! CEREC crowns are made possible because of the technology that not only lets us create a crown on site but also that allows us to thoroughly and precisely design that crown with the use of digital CAD/CAM software. Ask questions to learn more!
#4: It's Metal Free!
Fortunately, if a CEREC crown works for your needs, you will be happy to learn that it also works for most individual requirements. This type of restoration is free of metal, which means not only is it beautiful but it is also safe for pregnant women, young children, and individuals allergic to metal!
See Us For Your One Day Crown
Come in for a CEREC crown and get excited about the many benefits that this one-day treatment provides. Let us know if you have any questions about restoring your smile, so you may do so confidently! To learn more, schedule an appointment or initial consultation by calling Advanced Dental Concepts in Auburn Hills, MI today at (248) 852-1820.