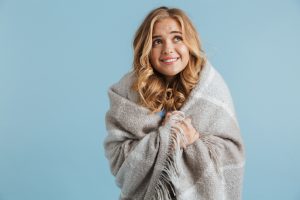 You knew that the arrival of winter weather in our Auburn Hills, MI community could make you feel cozy and very excited about snuggling up by the fire. You knew that it could also hint at a future moment when you get to peek through the windows at a peaceful winter wonderland! What you may not have really considered, however, is the fact that sometimes, colder temperatures can lead to the worsening of oral health issues that may (or may not) already be present. Can we help, you wonder? As always, we can most certainly assist you! Start with some suggestions and see us soon for further care.
#1: Your Smile Sensitivity
If you were hoping that winter weather wasn't going to have anything to do with your smile sensitivity, think again! Unfortunately, exposure to cold air is often enough to truly make your already sensitive teeth feel even worse. Why are we telling you this upsetting news, you may wonder? Well, it's because if just breathing in the air around you is causing some discomfort, that means it's time for a dental checkup with us, either so we may provide a treatment to address the underlying oral health concern or so we may provide lifestyle advice to make your smile feel better.
#2: Your Chapped Lips
Just when you thought you had a handle on your chapped lips, as summer memories and cracked lip tissue faded from your thoughts, winter arrived. Time to say so long to the respite that fall may have offered you, as plummeting temps, dryness, and the use of your central heat make for a resurgence of not-so-supple lip tissue. We remind you: It's time to load up on water, on moisturizing, intensive lip treatments, and on whatever it is you need to do to keep your airways open (translation: treat colds and winter allergies ASAP), so your mouth remains moist and your lips stay healthy.
#3: Your Oral Health!
Uh oh! Piggybacking on the idea that a lack of moisture is going to become a serious issue during winter weather, we remind you that this is not something that may only impact your lip health but that will also have a much more serious impact on the entirety of your oral health if you're not careful! Dry mouth is the name and it leads to issues like cavities, when saliva is in short supply. Keep the aforementioned suggestions in mind (hydration and a clear upper respiratory system).
Avoid Winter Weather Smile Blunders
Keep up with our suggestions for your seasonal dental care this winter, so you can enjoy the colder months without dealing with negative side effects from the chilly weather! Have questions? Call our team! To learn more, schedule an appointment or initial consultation by calling Advanced Dental Concepts in Auburn Hills, MI today at (248) 852-1820.