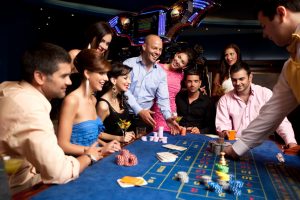 If you are an Oakland University student, you already know that you shouldn't gamble on the health of your teeth. However, next week the Oakland University Student Program Board will be encouraging and teaching you to place bets and win prizes while taking in some amazing entertainment at their largest event of the year- Casino Night: Cirque Du Soleil! Remember, if you would like to attend events like this with your brightest possible smile, then let us know! We offer a full range of treatment options.
What Is Casino Night?
Casino Night is going to be a semi-formal party for Oakland University Students! You'll get tokens free of charge at the door and spend the evening learning to play games like Blackjack and Texas Hold 'Em. There will also be acrobatic performances from the Cincinnati Circus throughout the night, dinner, mocktails, and a "midnight-ish" breakfast served. At the end of the night you can use your tokens to enter drawings for incredible prizes, including a TV, KitchenAid Mixer, drone, and 3D Printer!
Where Will It Be Held?
Casino Night will be held at the Oakland Center, located at 2200 N Squirrel Rd, Auburn Hills, Michigan, which will be fully transformed into a Cirque Du Soleil themed casino.
When Is It?
The event will take place Saturday, January 18, 2020 from 6 PM to 12 AM, and you'll want to get there early- there are giveaways for the first 500 people!
How Can I Find Out More?
If you're an Oakland University student, or just interested in learning more details about Casino Night: Cirque Du Soleil, you can message the hosts, the Student Program Board of Oakland University, through the Facebook event page.
Bet on Your Health
At Advanced Dental Concepts, we know the importance of having a good time, but we also know the importance of responsibility, especially when it comes to taking care of your health. We are committed to keeping your smile healthy and beautiful, so if you are experiencing any issues or due for a visit, schedule an appointment or initial consultation by calling Advanced Dental Concepts in Auburn Hills, MI today at (248) 852-1820.